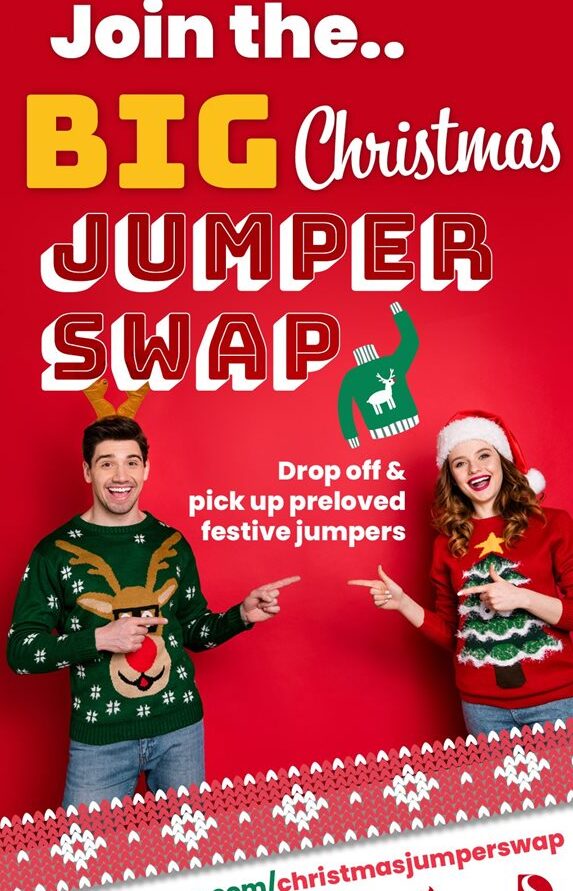 With just days until the big Christmas switch on in Derry and Strabane it's time to dust off the Christmas jumper and get ready for the party season.
But after a couple of outings, it's back in the drawer for next year!
The Christmas Jumper phenomenon is as strong as ever, and it's now become a staple of the office party ensemble.
So this year Derry City and Strabane District Council is encouraging people to take part in a new initiative to give your castaway Christmas jumper a new lease of life.
If your jumper is one of the 65 million unloved jumpers sitting at the back of the cupboard, then why not swap it for something new, and add some sparkle to your wardrobe this Christmas.
Mayor of Derry and Strabane, Councillor Patricia Logue, said it was the perfect way to recycle this Christmas. "I think everyone probably has a Christmas jumper somewhere in their wardrobe, and we get fed up wearing the same one each year, but hate spending money on something new.
The Big Christmas Jumper Swap Shop is the perfect way to revamp your Christmas outfit, at no additional cost.
"Children's jumpers are especially welcome, as children grow out of them so quickly, making it perfect sense to swap instead of shop!"
The Christmas Jumper Swap Shop follows on the success of Derry City and Strabane District Council's Halloween costume swap, which gave people the chance to donate old Halloween costume cluttering up their homes.
Encouraging people to take part, Waste and Recycling Officer with Council, Julie Hannaway, said: "Halloween is over and we are heading towards the festivities of Christmas and all the joy it brings to so many.
"But one of the biggest issues at Christmas is waste – from packaging to unwanted presents.
"We need to find new and innovative ways to both reduce cost and the amount going into our bins and cluttering our homes.
"The Christmas Jumper Swap gives people the chance to share a bit of happiness, and also save a bit of money. So I would really encourage people to consider donating an unloved festive jumper to the swap this year."
Anyone wishing to donate their Christmas jumpers can do so by dropping them off at any of the following local drop off points:
Guildhall, Derry.
Council Offices, 98 Strand Road, Derry.
The 4R's, Pennyburn, Derry.
Waterside Future Village, Derry.
The Alley Theatre, Strabane.
Council Offices, Derry Road, Strabane.
Strahans Road Recycling Centre, Strabane.
For further info go to: www.derrystrabane.com/christmasjumperswap
Tags: