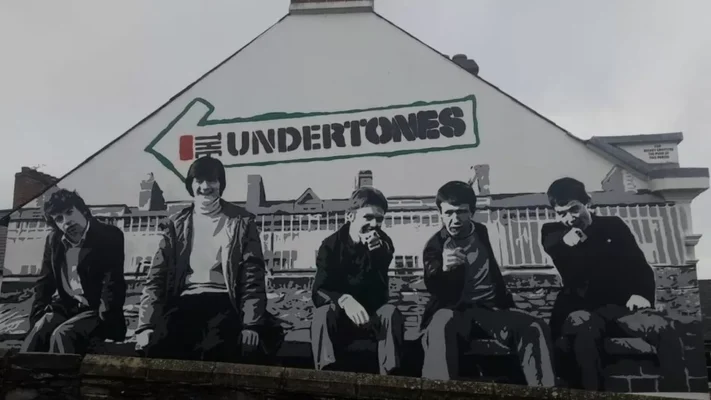 Derry's most famous punk sons have been immortalised in new street art in the city.
The cover of The Undertones' eponymous debut album has been recreated on a city centre wall.
Almost 50 years ago since the North's 'godfather of punk' Terri Hooley invited the Derry band to record their debut EP.
On Thursday the scaffolding around The Undertones mural in Castle Street was removed.
It has been painted by Karl Porter of UV Arts and commissioned by Derry solicitors Kevin Casey and Greg McCartney, on whose premises it's been created.
Former Undertones frontman Feargal Sharkey has tweeted his approval for the "totally brilliant bit of work".
"My applause and appreciation to everyone involved, never thought for one second I would ever see myself staring down from Derry walls."
Mr McCartney said the idea started to take shape back in 2018, when he and Mr Casey were having the office painted.
As huge fans of the band, they decided, he said , the gable wall would be "a fitting place" to pay tribute, "bearing in mind there was nothing else in the city to mark their achievements".
Mayor of Derry City and Strabane, Councillor Patricia Logue, said she is delighted with the city's newest street art.
"It will join the Derry Girls mural as one of the many iconic images that captures the cultural heritage and creative heart of this city," she said.
"The city is developing a modern and vibrant new visual legacy that will take visitors on a unique journey."
The Undertones remain the most successful band to have emerged from Derry and one of the most successful to ever come from Northern Ireland.
Singles such as Teenage Kicks, Jimmy Jimmy and My Perfect Cousin soared up the charts in the late 1970s and early 1980s.
It might have been very different had they not made a trip to Belfast in 1978 for Terri Hooley's Battle of Bands competition.
So impressed was Mr Hooley, the story goes, that he invited them to record their debut EP the following day.
That EP was Teenage Kicks.
Mr Hooley championed Northern Ireland's punk music bands at the height of the Troubles in the 1970s and, as founder of Good Vibrations, he helped to bring to prominence bands including The Undertones and Rudi and the Outcasts.
Tags: