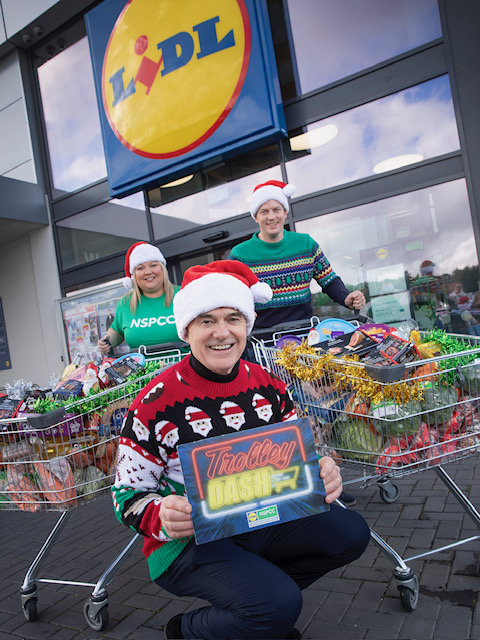 Lidl Northern Ireland has teamed up with renowned U105 broadcaster and former UTV presenter, Frank Mitchell, to launch the return of the retailer's biggest and most loved fundraiser of the year – Trolley Dash.
Now in its 10th year, Trolley Dash is Lidl Northern Ireland's flagship fundraising event for its charity partner, NSPCC, offering customers from across Derry the chance to win their entire Christmas food shopping for just £1, in aid of NSPCC.
With the festive season just around the corner, one lucky customer from each of Lidl Northern Ireland's stores will win a supermarket sweep-style dash around their local store to grab as much of their Christmas shopping as possible in two minutes.
In previous years, dashers have grabbed hundreds of pounds worth of treats and managed to tick off all items on their Christmas food shopping list.
The tickets to enter cost just £1 and will go on sale in all Lidl Northern Ireland stores across Derry on Saturday 11th November 2023 for two weeks only and shoppers can purchase as many tickets as they wish in support of NSPCC.
100% of the proceeds from ticket sales will be donated to NSPCC whose mission is to protect the children of NI to prevent abuse and transform society for every childhood.
Frank Mitchell, U105 Radio Presenter and former UTV Presenter, said: "I am honoured to launch Lidl Northern Ireland's Trolley Dash charity campaign this year in aid of NSPCC Northern Ireland.
"Christmas is a wonderful time of the year when many families come together to celebrate the festive season.
"Particularly in the world we live in today, with cost-of-living pressures for many families – the gift of giving has never been more important.
"Thousands of children right across Northern Ireland rely on NSPCC's services over the festive period.
"The charity relies heavily on public donations to ensure their services are available for vulnerable children in need over the Christmas period- and beyond.
"It's an absolute privilege to be involved in this campaign; not only will 41 lucky shoppers get the chance to bag their Christmas shopping for free, but all proceeds from ticket sales will go directly to funding NSPCC Northern Ireland's vital services.
"It's a fantastic initiative. I'd like to say a massive thank you in advance to everyone who buys a ticket and supports this crucial service, and I wish you a very happy Christmas."
Ivan Ryan, Regional Managing Director, Lidl Northern Ireland, said: "Lidl Northern Ireland is delighted to announce the return of the annual Christmas fundraiser, in partnership with NSPCC.
"From Saturday 11th November for two weeks only, Lidl Northern Ireland customers will have the fantastic opportunity to buy a £1 ticket at the till to be in with the chance of winning the 'golden ticket' to take part in a supermarket-style sweep competition against the pressing time of just two-minutes.
"Northern Ireland will see 41 lucky winners- one for every store.
"Since 2017, we have successfully raised over £900,000 for our charity partner, NSPCC, and our annual Trolley Dash initiative plays a huge part in this.
"We hope that this year will be the biggest yet and encourage all customers to get involved as every store has a winner!"
Lidl Northern Ireland has donated over £900,000 to NSPCC Northern Ireland through a range of activities and initiatives driven by Lidl Northern Ireland staff members across its 41 stores.
And since the partnership began in 2017, Lidl Northern Ireland has made a commitment to raise £1.1 million by 2024.
Stefani Mearns, NSPCC Supporter Fundraising Manager, said: "On behalf of the team at NSPCC I would like thank Lidl Northern Ireland for its continued support and for the brilliant opportunity to be part of the Christmas Trolley Dash initiative again this year.
"The partnership which we have developed with Lidl Northern Ireland over the past six years has been groundbreaking for our charity and the generosity of its staff and customers never fails to impress us each year.
"We are beyond grateful for the support and opportunity as the significant funds raised from Trolley Dash will go a long way in making a huge difference to the children and families of Northern Ireland when support is greatly needed.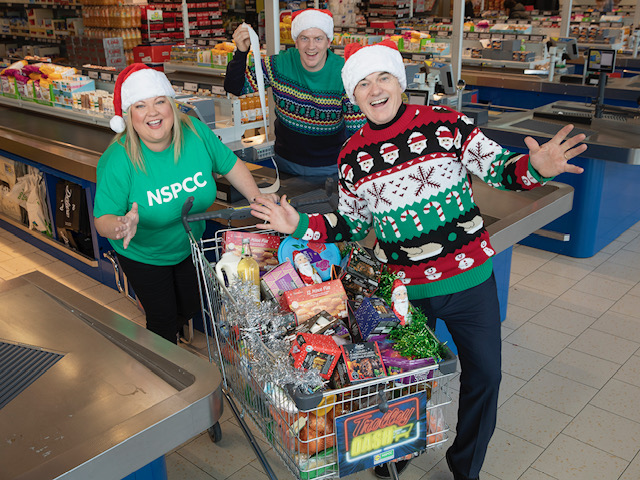 "NSPCC is here to support all children who need to make use of our specialist services- or simply, someone to talk to. With the help of Lidl Northern Ireland, all of this is possible."
All winners will be contacted directly by their local Lidl Northern Ireland store and invited to take part in the Trolley Dash before stores open.
This gives winners a clean run at the aisles to grab as many items on their Christmas shopping list as they can. Dashes will take place on Saturday 2nd December, Saturday 9th December and Saturday 16th December 2023.
For more information about how to get involved and for competition terms and conditions, please visit: https://www.lidl-ni.co.uk/c/trolley-dash/s10032944
Tags: