The children at St John's Primary school in Derry's Blighs Lane were delighted this week to host Joe Wicks for a fantastic day of exercise and excitement!
They applied for a visit from Joe Wicks, by filling out online forms giving reasons why he should come to their school over others!
The school has an active sporting life with outstanding Gaelic and football teams, yoga for children, cheer leading after school clubs and every class walks a mile everyday as part of their day to day wellbeing focus!
Joe Wicks started his visit in Primary 1 and lead a 15 minute work out and had some photo time with children and staff! After that the whole school took part in a Q and A all about Joe and his life.
Ann Mullan, a teaching assistant at the school, said: "He was so down to earth and so lovely with everyone, he is such a regular guy with such a feel good message."
Mrs B Doherty the primary 1 class teacher said: "It is a very memorable day for our children we just loved our exercise class outdoors."
Joe answered class questions and showed off how high he could jump and some super strength press ups.
All the children, parents and staff participated in an outdoor exercise class for 30 minutes and Joe left them with a positive message to keep active to improve your mood!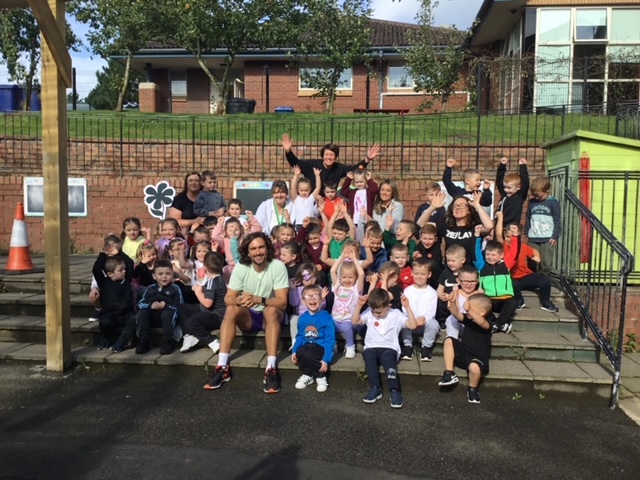 School principal Mrs O Connor said: "We are delighted Joe choose our school out of ten thousand applications, the day has brought much enjoyment, light and hope to our children and they will remember this in years to come."
Parents also took part in the outdoor exercise classes and Joe Wicks had so much patience when it came to the selfie request queue!
"St John's Primary school would like to thank Joe Wicks for sharing his special gifts of positivity, and his resilience to us all!
"We were all inspired to lead a healthier more active life after his impactful day."
Well done to Joe and St John's!
Tags: