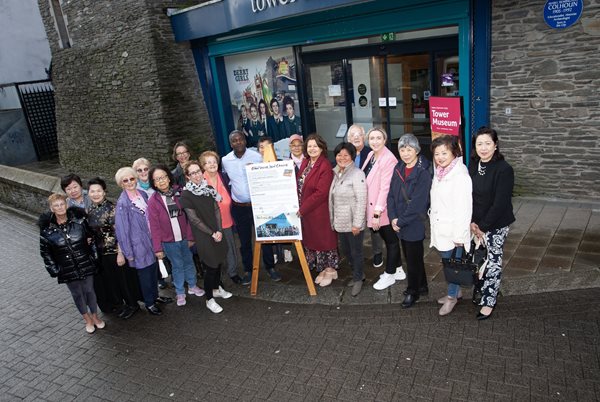 The Tower Museum in Derry is just one of a whole host of venues to take part in the Global Voices Local Choices programme, promoting better understanding across cultures.
The project aimed to provide opportunities to engage marginalised communities, bringing people together, and using word culture museum objects to promote conversation and learning.
Global Voices Local Choices is led by National Museums NI, in partnership with the African and Caribbean Support Organisation Northern Ireland (ACSONI) and Northern Ireland Museums Council (NIMC), and is funded by the Esmee Fairbairn Collections Fund.
At the Tower Museum participants explored a range of objects from the World Cultures Collection at the Tower and at the Ulster Museum, including the Mbira, a family of musical instruments, traditional to the Shona people of Zimbabwe.
Through sharing music and Asian food, the group had the opportunity to explore new cultures and identities, and discuss the importance of diversity and inclusion.
Mayor of Derry and Strabane, Councillor Patricia Logue, said the programme had an important role in bringing people together.
"Museums are important shared spaces where people can get together to discuss heritage and how it has shaped society," she explained.
"Programmes like Global Voices Local Choices bring different cultures together to share their stories, and use artefacts as the starting point for conversations around culture and heritage and the traditions that are unique to different ethnic communities.
"I am delighted that the Tower Museum is engaging with the programme and providing a place for local people of all backgrounds to come together."
Visitors can now view a beautiful Mbira at the Tower Museum, on loan from National Museums Northern Ireland, which is on display alongside a short film about the project.
The instrument was donated by Agrippa Njanina the project facilitator who, during one of the sessions, played the instrument and explained its significance to his community.
Find out more about the Global Voices Local Choices project at: https://www.nationalmuseumsni.org/global-voices-local-choices-project
Tags: