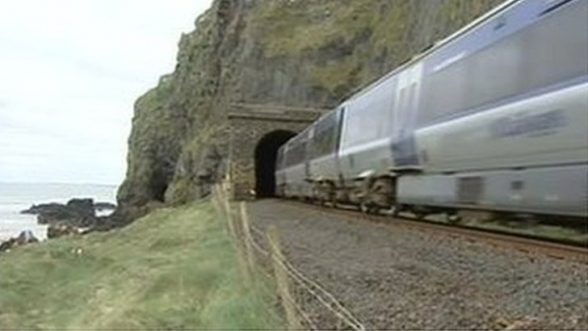 SDLP Leader Colum Eastwood has called on the Department for Infrastructure to clarify why Derry's rail line will be the only core line in Ireland without train services running at 200km/hr (120mph).
Translink has stated that the reopened Derry-Portadown line envisoned in the All-Island Strategic Rail Review will be uniquely classified as "other inter-city routes".
Mr Eastwood said long-awaited rail improvements would provide vital services to help unlock the economic potential of Derry and the north west.
Said the Foyle MP: "It is over two years since then SDLP Infrastructure Minister Nichola Mallon took ambitious steps to commission the All-Island Strategic Rail Review with her Southern counterpart Eamon Ryan.
"At the heart of the rail review was the need to expand service provision in the north west of our island, which would benefit hugely from modern and reliable transport links.
"It is disappointing to learn that Derry will be the only core city on the island identified in the review that will not have trains running at a speed of 200km/hr.
"This decision will undoubtedly impact the economic opportunities created by the rail review, with slower services making people less likely to choose public transport for their journeys.
"This rail review is a once in a lifetime opportunity and we can't afford to mess it up.
"For far too long this part of our island has been neglected when it comes to public transport and fast reliable services will be more important than ever in the coming years as we work to tackle the climate emergency and invest in sustainable jobs and infrastructure.
"I have written to the Department for Infrastructure to try and establish why the Derry to Portadown line is being treated differently from other key rail routes in the review.
"This project is still at an early stage and I believe this issue should be looked at again, with the original recommendation that all key cities on the island should have train lines operating at 200km/hr being adopted."
Tags: