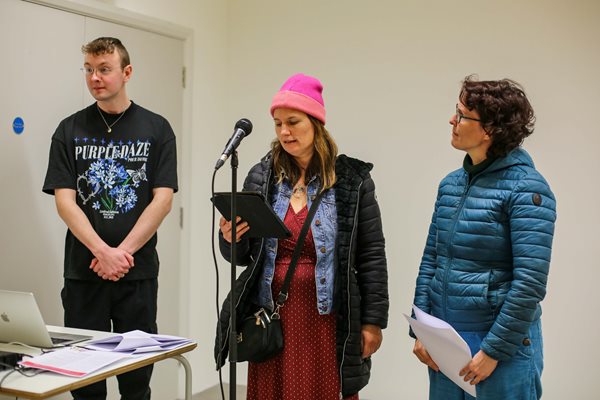 Derry and Strabane were alive with song, dance, art and culture over the weekend following two successful events on Friday and Saturday.
The 18th edition of Culture Night took place on Friday evening with a jam-packed programme of exciting events happening across the city and district.
Following that, the vibrant One World Festival took over the City Centre on Saturday with an array of fantastic art, song and dance performances.
Derry and Strabane celebrated Culture Night alongside towns, villages and cities across the island of Ireland with the biggest programme of events to date.
Attendees were treated to a cultural explosion and a feast of events over one wonderful evening.
Free events took place in historic venues across the city and district including the Tower Museum, the Guildhall, St Augustine's Church and St Columb's Cathedral.
Suitable for all ages, families and individuals enjoyed song, dance, poetry, spoken word, visual arts, heritage, environment, circus, carnival.
The multi-cultural One World Festival took place on Saturday afternoon and welcomed an eclectic programme of events with inspiration from around the globe.
A vibrant tapestry of global cultures were showcased across the Guildhall Square with interactive workshops and exhibitions taking place inside the Guildhall and Harbour House. Festival-goers enjoyed a comprehensive programme of worldwide music, song, dance and cuisine as well as arts and crafts, captivating storytelling and engaging dialogues.
The Mayor of Derry City and Strabane District Council, Cllr Patricia Logue, said she were delighted to welcome the two successful festivals to the city and district this weekend.
"We were thrilled to see not only one successful festival, but two, take place in our city this weekend.
"Culture Night continues to grow and we were thrilled to welcome a huge array of acts and performers this weekend to complete our biggest programme of events so far.
"We were delighted to host events in some of our key historic buildings here and showcase their beauty while celebrating the cultural arts and heritage our city and district have to offer.
"The One World Festival continued the celebrations and we loved to see the vibrancy and energy that all those different cultures brought to our city centre.
The festival of cultural identities brought together a huge range of traditions where traditional Irish customs met with the richness of cultures and communities from across the globe.
"We pride ourselves on our events and festivals and continue to grow our already established events such as Culture Night, Halloween and Spring Carnival, however we love to deliver new and exciting events and this weekend has been a refreshing addition to our already extensive calendar of events."
To keep up with Derry City and Strabane District Council's calendar of events for the year ahead, visit: www.derrystrabane.com/what-s-on
Tags: