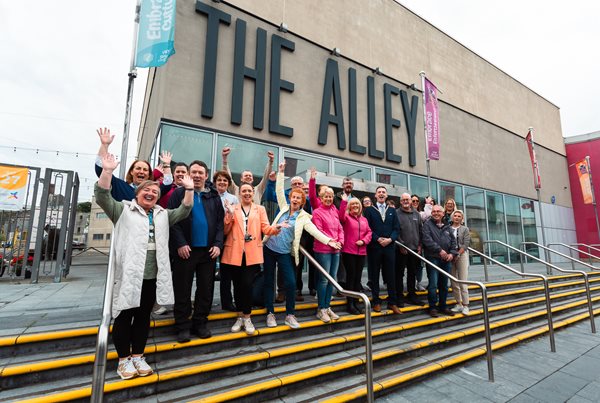 The Deputy Mayor of Derry and Strabane, Councillor Jason Barr, was joined by leading figures in the tourism industry for the relaunch of the Alley Visitor Information Centre in Strabane.
The relaunch is part of a campaign by Derry City and Strabane District Council to promote and showcase Strabane and the wider Sperrins area.
The Alley Arts & Conference Centre and Strabane Visitor Information Centre is at the heart of the area's tourism and cultural offering, and is the first point of contact for visitors.
The centre showcases the many wonderful attractions, events, activities, crafts and accommodation available locally and regionally and also provides advice, guidance and support to tourism providers.
As a venue it's a busy hub for events and provides the perfect platform to showcase the culture, history and heritage of the region.
Welcoming the group to the Alley for the relaunch event, Cllr Barr said the centre would have a pivotal role in driving visitors to the North West area.
"As well as being a vibrant and friendly visitor destination, Strabane is also an important gateway and base for those visiting the Sperrins, the Walled City, and the wider North West," Cllr Barr told those gathered.
"The Alley Visitor and Information Centre has a dual role as both a cultural centre and as the perfect starting point for anyone hoping to explore the many attractions in the area.
"This investment by Derry City & Strabane District Council represents our ongoing commitment to investing in our visitor servicing infrastructure, to ensuring visitors enjoy a high quality visitor experience, and to showcasing the wonderful offer available in the Derry & Strabane District Council area and the Sperrins."
Venue Manager at the centre, Louise Boyce, said: "The Alley Arts & Conference Centre and Strabane Visitor Information Centre is right at the heart of the Strabane community, and our team are on hand to help visitors create bespoke experiences to best suit their interests.
"We work closely with our industry partners to promote the area to a wider audience and provide the localised knowledge to ensure visitors can tap into all the attractions that make this area so special."
Following the event, the group embarked on a tour of some of the key tourist attractions in the area, including the recently completed Sperrins Giants Sculpture Trail, the International Appalachian Trail Ulster Ireland developments, and the Woodland Trust's Faughan Valley Sculpture Trail.
Tourism Manager with Council, Margaret Edwards, said it had been a fantastic opportunity to showcase the area.
""We are blessed to live in an area with such a rich cultural, historical and environmental offering, the perfect destination for people seeking out a variety of different experiences.
"We have recently added some fantastic new attractions to that offering and we want to really get that message out to visitors with the support of our partners in the tourism industry.
"We got lots of positive feedback following the familiarisation trip, and we are confident that this will carry through in the messaging about this beautiful and unique place that we are so lucky to have right on our own doorstep."
Tags: