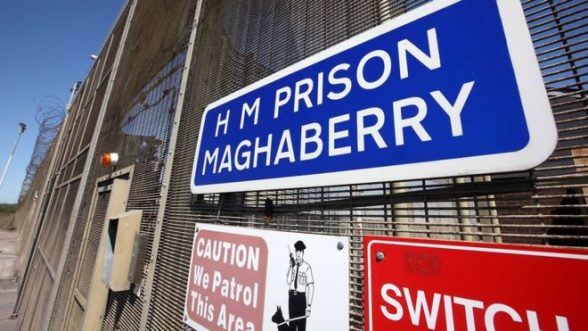 A terminally ill man jailed for 16 years last week after he admitted a horrific campaign of violent sexual abuse against his four daughters has died.
The 61-year-old from Derry's Waterside area had been described as a "monster" by one of his daughters.
He was being held in HMP Maghaberry when he was sentenced last Thursday at Derry Crown Court.
However, the Belfast Telegraph reports that the man, who cannot be named to protect the identities of his children, died four days later.
The sentencing said the paedophile, who was described as a strict, religious and controlling father by his four daughters, had carried out horrific crimes against four blameless children.
The court heard one of the daughters wrote: "You were supposed to be my protector, but instead you are a monster."
The pervert's sickening abuse began in 2000 and continued for 12 years.
Passing sentence, Recorder of Derry Judge Neil Rafferty KC said: "By any measure, the catalogue and the indignities of the offences committed against these four young women was quite frankly difficult to read — and I say that as a judge experienced in these type of cases.
"This was a campaign of vile sexual violence by their father."
Detective Superintendent Lindsay Fisher, from the PSNI's Public Protection Branch, said the man's actions "plumbed the depths of depravity".
In interviews with BBC NI reporter Keiron Tourish, each daughter said they believed they were the only one being abused by their father, when in fact all four of them were targeted.
One daughter, who was abused from the age of nine until she was 20, said she did not fully realise the extent of the abuse her father subjected her and her sisters to until they saw the court proceedings play out via video-link.
"Whenever the judge read everything out, and it was there in black and white, I was shocked. I shocked myself," she told the BBC.
Another daughter, who was abused between the ages of seven and about 14, described her father as a "Jekyll and Hyde" character.
At last week's count hearing, Judge Rafferty, speaking to the four siblings, who attended the court via sight-link for their father's sentencing, said: "You have my admiration for the courage you have shown in coming forward and I hope today is a watershed [in] your journey not as victims but as survivors."
Judge Rafferty said he was proceeding with the sentencing in the absence of the defendant, "who, at present, is terminally ill in HMP Maghaberry".
He said it was "poignant and harrowing" to read what one of the daughters had written in her victim impact statement.
She wrote how she fell into despair and attempted to take her own life as a result of being sexually abused by her father.
She stated she was still haunted by the abuse and had sleepless nights.
Her adult life had been so blighted by the abuse she suffered that she made the decision not to have children because of what happened to her.
Addressing her father in her statement, she wrote: "I am so proud of who I now am and of who I have now become. This is the final step in my closure and you are no longer part of my life."
The four sisters reported the sexual abuse to the police in August of last year and in the same month the defendant's pastor contacted the police and told them that the defendant had admitted to him that he had abused his four daughters.
When interviewed by the police, the defendant made full admissions and said his abuse included sexual intercourse, oral sex, sexual touching and masturbation.
Almost all of the offending took place in the family home when the girls' mother was out working.
In one instance, however, one of the girls was raped by her father on continental Europe, where he'd taken her for a week to celebrate her 13th birthday.
The monster was placed on the Sex Offenders Register indefinitely.
Tags: