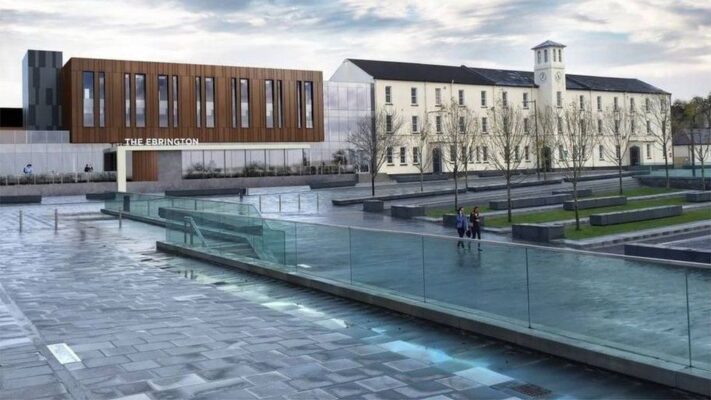 People Before Profit Councillor Shaun Harkin has said that Ebrington Square should not become another burden on local rate payers.
Said the Foyleside councillor: "The situation at Ebrington Square is a complete fiasco. There is a clear need for accountability.
"There was unanimous support from all parties at the Audit, Assurance and Risk Committee this week for People Before Profit's proposal for an urgent meeting of Council with The Executive Office to discuss 'the use, management and future' of the Square.
"Proposals from SDLP MP Colum Eastwood and others for the Council to takeover responsibility for the Square could be the way forward – but there will be a cost to this and it can't become a further burden on ratepayers.
"Derry and Strabane Council is already overburdened by Stormont.
"The SDLP put up rates in the District by nearly 10% this year – hitting hard pressed households with another massive bill and fewer services.
"They slashed millions from the Council budget leaving our streets dirtier, organisations without support and events cancelled with no funding.
"Taking on Ebrington Square without a cast iron guarantee of year on year funding matched to inflation from Stormont could see the SDLP and others justifying another massive rates hike and more cuts.
"This might not impact the MP and the minority of people who have benefited from the Good Friday Agreement – but it will hit the vast majority of people and organisations struggling with the cost of living crisis.
"The problem with Ebrington Square is a microcosm of a much larger problem.
"Stormont officials and a handful of self-appointed corporate elites have contempt for the idea that it's the people's square.
"The 'in-club' gets what they want – rates hikes and Stormont cuts to public services don't impact them.
"We're told there's no money for Holiday Hunger Meals for children and nothing for workers to get pay rises.
"But we see millions of public money handed out at Ebrington Square with accountability and no clear benefit to the vast majority of people.
"We need root and branch change from this approach."
Tags: