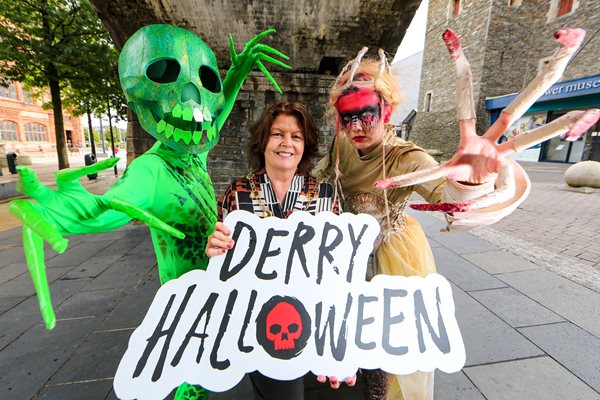 It's already been months in the planning and the sewing machines are now doing overtime at the North West Carnival Initiative Hub, as the team step things up a gear in their preparations for this year's Halloween Carnival Parade.
Mayor of Derry and Strabane, Councillor Patricia Logue, met with some of the ghoulish characters featuring in this year's parade, which is the highlight of the world famous four-day festival, this year running from October 28th-31st.
And she joined Project Manager Jim Collins in issuing the annual call out to schools, sports clubs, drama groups and dancing troupes, who bring their talents to the festival each year.
Over 600 performers take in the parade which weaves its magic through the streets of the city centre on Halloween night.
Launching the parade, Mayor Logue said it was the community involvement that made the Carnival Parade so special.
"Our Halloween celebrations have always belonged to the people of Derry, from that very first Halloween fancy dress party that inspired the huge internationally renowned event it has become today," she explained.
"Local people really pull out all the stops when it comes to dressing up and that has passed down through the generations.
"The Carnival Parade really elevates the community involvement and it's a great opportunity for young people and cultural groups to showcase their creativity and talents."
Jim Collins heads up the team of artists and makers who spend months preparing props and costumes for the festival, which this year brings 'the Walled City of Bones' to life.
Volunteers are always welcome for anyone who wants to try their hand at creating, and Jim is also encouraging local groups to get involved.
"The Halloween Carnival Parade is one of the biggest community led events in the country and it depends so much on the involvement of our local clubs and groups," he stressed.
"Organisations and schools who get involved have the opportunity to take part in workshops led by our skilled facilitators to help create their own costumes and props, which is all part of the fun in the build up to the event.
"It's a great collaborative experience, and we are look forward to working with different groups every year, who all bring something unique to the event."
You can sign up to take part in the parade, which will cast its spell on tens of thousands of revellers in Derry's city centre on Halloween night, by contacting [email protected]
For more information on Derry Halloween go to: derryhalloween.com
Tags: