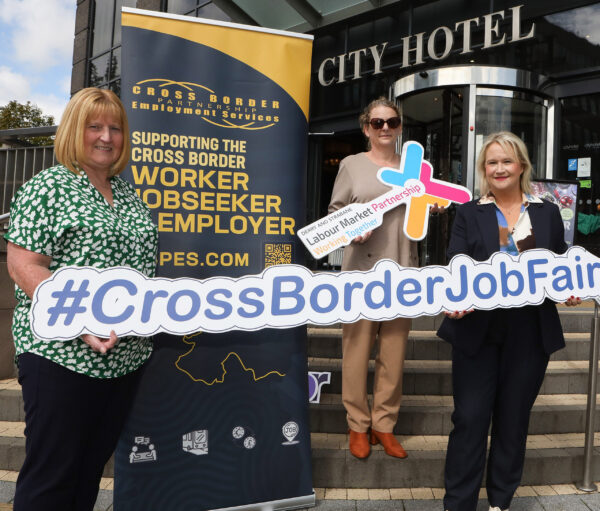 Local job seekers will have a chance to speak directly with prospective employers at a special event planned for the City Hotel this week.
The Derry City Job Fair on Tuesday September 12th is a chance for individuals to chat to employers, learn about vacancies that exist in the Council area and enhance their employment prospects through practical advice and support.
The Job Fair is hosted by Department for Communities, Derry and Strabane Labour Market Partnership and Cross Border Partnership Employment Services (incorporating the Department of Social Protection, Ireland).
The Labour Market Partnership is a province-wide approach developed by the Department for Communities which creates targeted employment action plans for council areas and allows for collaboration at local and regional level to support people towards and into work
The Job Fair is a chance for individuals to chat to senior decision makers, learn more about the vacancies that exist in the Council area and enhance their employment prospects through practical advice and support.
One of the employers in attendance will be Bishop's Gate Hotel and their manager JP McCafferty said they have a number of exciting opportunities for prospective employees.
"Bishop's Gate Hotel are very excited to be attending this event," he said.
"We want to meet you if you are passionate and enthusiastic about hospitality, interested in a long and vibrant career and keen to work in one of the best hotels in the region.
"We have full and part time vacancies open in our Food and Beverage, Reception and Housekeeping Departments.
"We are also delighted to announce openings for the Bishop's Gate Trainee Manager Development Programme – an 18 month placement in a variety of departments at Bishop's Gate Hotel, you will learn about managing a Food & Beverage Department, working with our Conference & Events Team, and also the opportunity to work in our Rooms Department within Housekeeping, Concierge and Reception."
Mayor of Derry City and Strabane District Council, Councillor Patricia Logue, urged the public to take advantage of the chance to make informed decisions about their next career move.
"The Derry Job Fair will feature a diverse mix of employers from a range of sectors all under one roof including engineering, education, IT, hospitality, manufacturing, construction and customer service," she said.
"Those in attendance can also avail of practical support on how to enhance your employability and make a successful application through CV and interview advice.
"Whether you are currently out of work or just considering the next step in your career journey I would encourage you to attend."
The Job Fair will take place from 11am to 3pm on Tuesday, September 12, and admission is free.
A second Job Fair is also being arranged for the Alley Theatre in Strabane on Wednesday, September 27 from Midday to 3pm.
For further information email [email protected]
Tags: