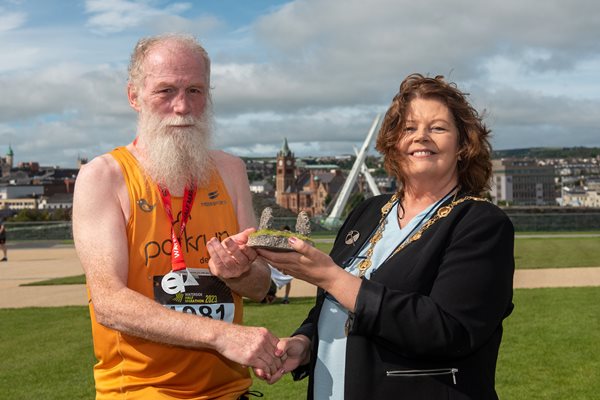 Well known runner and Parkrun volunteer George Row has received the Waterside Half Marathon 2023 Danny Sheerin Award from the Sheerin family and Mayor of Derry City and Strabane District Council, Councillor Patricia Logue.
The award was established last year following the passing of the popular runner to recognise members of the local running fraternity who embody the spirit of participation and encouragement that Danny was so well known for.
Mr Sheerin took part in every Waterside Half Marathon since the event's inception in 1981, even when he was unwell with a cancer diagnosis in recent years.
He took part in scores of Marathons, Half Marathons and Triathlons in the city for decades, including every Derry Marathon, and sadly passed away following his long battle with illness less than two weeks before last year's Waterside Half.
His son Bernard ran the Waterside Half Marathon on Sunday in his memory.
George Row is Run Director of the Derry City Parkrun – a free timed 5k run on Derry's riverfront every Saturday morning and has volunteered at the event on 245 occasions.
He has been a regular competitor in the Waterside Half Marathon in recent years and has also completed several other long distance athletics events including the Walled City Marathon.
A talented judo player in his youth, he has also documented in some detail the many running routes across the city on the Strava app which has allowed many local runners to explore the city's high-ways and by-ways when training for events.
The 2023 Waterside Half Marathon was his seventh year completing the event.
"It was a real honour for me to present the award to George on behalf of the Sheerin family," said Mayor Logue.
"It is a fitting way to continue the spirit of taking part and leading by example that Danny was so well known for.
"George Row is a regular fixture on the roads and greenways of the city and his selfless volunteer work every Saturday with the Parkrun has provided a gateway for hundreds of local people to take up athletics.
"Although he took up running later in Iife, he is living proof that it is never too late to get more active and chase you athletics goals.
"I would like to thank the Sheerin family for this initiative and congratulate and wish George the best of luck as he continues his running journey."
Tags: