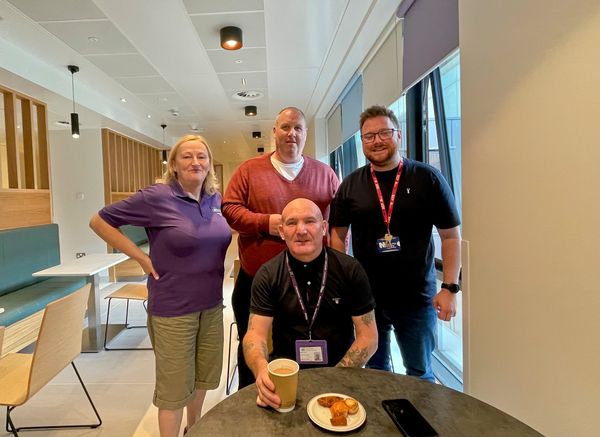 Visitors and staff of Altnagelvin Hospital can look forward to an all new dining experience with the opening of 'Crossroads' this week.
Crossroads is the Hospital's new look restaurant located on the ground floor, where South Wing, North Wing, The North West Cancer Centre and Tower Block intersects. I
It replaces the existing restaurant on Level One of the Tower Block.
Speaking about the new eatery, Joanne Daly, Western Trust Support Services Manager, said: "We worked closely with our Capital Development colleagues to ensure Crossroads is an attractive modern environment that looks less like a typical hospital canteen and more like a space to relax and recharge.
"We also worked with our Health Improvement Team to ensure we provide a varied menu, being mindful of various tastes, dietary requirements and allergy restrictions."
Due to feedback and demand the opening hours for the new restaurant have been extended. Crossroads will open seven days a week between 8.30am and 8.00pm, a welcome improvement for staff working different shift patterns and visitors attending the Hospital for long hours.
Joanne added: "The existing restaurant was in place for a staggering 63 years, from the Hospital opening in 1960.
"Since then Altnagelvin has changed beyond recognition, especially over the past 20 years, with the addition of South Wing, the North West Cancer Centre and more recently, North Wing.
"I am absolutely delighted that we now have a state-of-the-art new restaurant befitting of our evolving health and care facilities."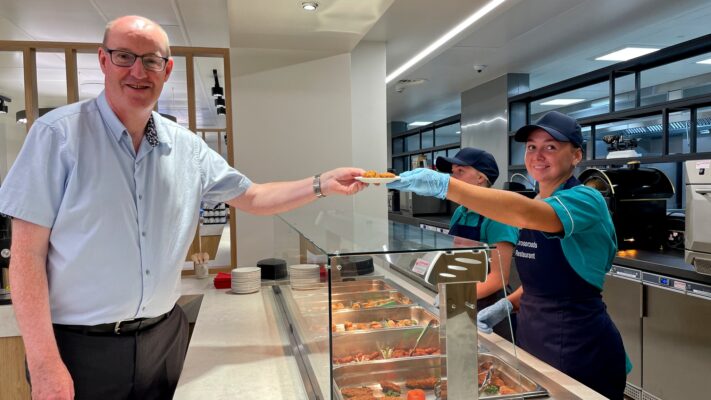 Crossroads will serve hot and cold food and will cater for people just wanting a snack, tea or coffee.
There is a communal space for people eating alone and there is pods and tables for small groups of people and teams of staff.
Each table is equipped with a charging point for laptops and mobile phones."
Staff from the Crossroads Restaurant: Eadaoin Carin, Fiona Hethrington, Phil Buchanan and Martin Brolly at the soft opening of the new Restaurant at Altnagelvin Hospital.
Wendy McLaughlin, Capital Development Project Lead, who was involved in the new restaurant development project, said: "We have carefully selected decor and colours as a means of creating a calming environment, whilst also amplifying the natural light brought in along the courtyard.
"Our vision was to create a space that was far-removed from the clinical setting, this has been achieved by working closely with our Architects and the Trust's Support Services Department."
Crossroads Restaurant is complemented by the main North Wing Ground Floor Coffee Shop at the main entrance of the Hospital and the Ground Floor Coffee Shops located at the Outpatients Department and Trust Headquarters on the Altnagelvin Hospital Site.
Tags: