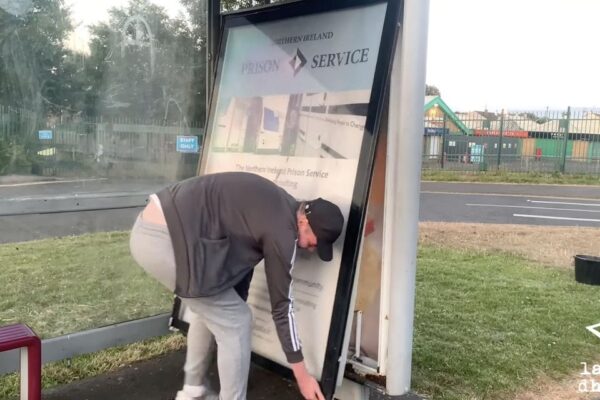 Recruitment posters for the NI Prison Service have been torn down in Derry.
A video circulating online shows people removing posters from a bus shelter and putting them in a nearby bin.
The footage, which last almost two minutes, also shows people placing anti-PSNI posters.
The incident is understood to have occurred in the Top of the Hill area of the city last week.
Republican socialist group Lasair Dhearg (Red Flame) said its Derry activists removed the poster.
"Top of the Hill is a community which is continuously oppressed by British Imperialism," it said.
"Many members of this community are republican ex-prisoners and know too well the role that prison officers played, and continue to play, in the oppression of republicans inside gaols."
DUP Foyle MLA Gary Middleton condemned those responsible and said there had been similar type activity in city in recent years, including the disruption of PSNI recruitment drive events.
"There must be a united and concerted stance against those who believe they can exert their will over the entire community, said the Foyle MLA.
"The prison service is an integral part of our society, helping keep everyone in our community safe.
"The only people who stand to gain from threats and intimidation against Prison Service staff are those who want to see criminality and gangsterism flourish."
Tags: