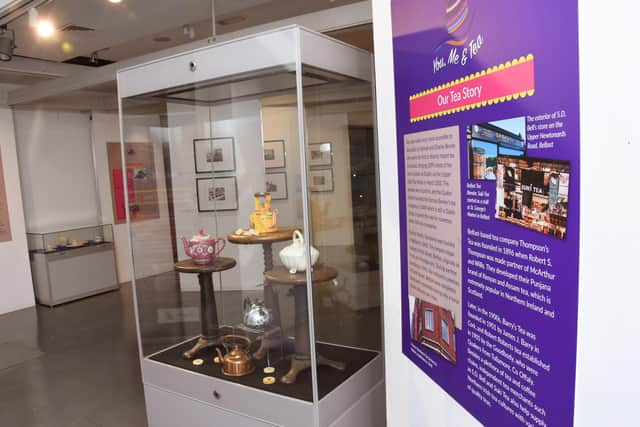 There are just a few weeks left to celebrate all things tea related at a unique exhibition exploring the heritage of tea in Northern Ireland, currently on show at the Tower Museum in Derry.
You, Me and Tea, which runs until June 18th, is a quirky social heritage project developed by Artsekta, exploring the local connections with China and India, and how tea first made its way to the country.
As well shining a light on a fascinating story, the exhibition has created an important forum bringing different communities together. Participants, artists and volunteers have come together over a cuppa to discuss all things tea related including, the origins and history of tea, connections with China and India, the journey of tea to Northern Ireland, and past and present tea merchants.
The project has been working with several community groups across the North with an accompanying engagement programme of talks and workshops for visitors.
Launching the exhibition in April, former Mayor of Derry and Strabane, Councillor Sandra Duffy, said tea had an important role in bringing people together.
"We are a nation of tea-lovers, myself included, and it's lovely to see this heart-warming exhibition come to the Tower Museum.
"Like a lot of us, I absolutely love a cup of tea, and I couldn't be without it.
"It's fascinating to learn about the origins and connections with China and India and how it ended up here in Ireland.
"But it also represents the spirit of community and how the simple act of sitting down to share a cuppa can bring comfort, build relations and promote dialogue. I would really recommend calling to see the exhibition while it's here."
Before it closes, there will be a number of tea related events taking place in the Tower Museum, and archivist Bernadette Walsh revealed more.
"We are delighted to host a number of tea-themed events including a Vintage Tea Party and crafting workshop, a lecture focusing on the history of tea in N. Ireland and you can even design your own tea cup!
"The events are a great opportunity to get together and celebrate tea and all its fascinating connections to our city."
You can view You, Me and Tea at the Tower Museum until June 18th. All the public events on the following dates are free and places can be booked by contacting T: 02871 372411 E: [email protected]
Tues 13th June at 11am – Vintage Tea Party & crafting workshop with Caroline Devenny
Tues 13th June at 2pm – Lecture: 'From Sirocco to Sawers, Nambarrie to Now' An animated tale of a Tea-Worker from 1886 who has to tell the true story of Tea in N. Ireland
Sat 17th June at 12pm – 'Anyone for a cuppa' Design your own tea cup using iconic landmarks of the city as inspiration (Family Friendly event)
Tags: