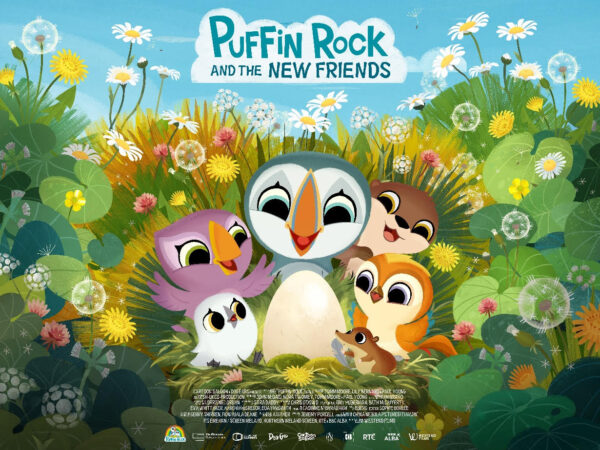 PUFFIN ROCK AND THE NEW FRIENDS, the new Irish animated feature from the Academy Award-nominated Irish animation studio Cartoon Saloon (Wolfwalkers) and Derry-based Dog Ears will be released in cinemas across the country from Friday, July 14.
Wildcard Distribution has launched the official trailer for the family film that features a host of Irish voice talent including Chris O'Dowd (My Father's Dragon), Amy Huberman (A Cat Called Jam) and Eva Whittaker (Wolfwalkers).
Based on the award-winning television series PUFFIN ROCK, the film is the first animated feature to be produced in the North of Ireland.
Celebrating Ireland's magnificent natural environment with themes of belonging, courage, and friendship PUFFIN ROCK AND THE NEW FRIENDS follows family favorites from the animated series Oona, Baba, May, and Mossy who are joined by a new cast of characters as Isabelle, Phoenix, and Marvin arrive on the island.
When the last Little Egg of the season disappears under mysterious circumstances, Oona and her new friends race against time to bring the Little Egg home before a big storm hits Puffin Rock and puts the entire island in danger.
Speaking about the film, director Jeremy Purcell whose credits include the animated TV series JOE AND JACK as well as the original PUFFIN ROCK series, said: "The Puffin Rock TV series will always have a very special place in my professional heart.
"Getting to go back to the Puffin Rock island for the feature film, and tell Isabelle's story as she moves to this new place and figures out what makes a home was a wonderful experience".
John McDaid, producer on behalf of Bishop Street-based Dog Ears, added: "We're delighted to announce Puffin Rock and the New Friends, a beautiful movie full of the fun and adventure our Puffin Rock fans have come to expect.
"I know families and kids have been looking forward to this new story, one where our little puffins make some new arrivals feel at home, and work together to protect their natural habitat, themes at the very heart of Puffin Rock."
The screenplay for PUFFIN ROCK AND THE NEW FRIENDS was written by Sara Daddy who was Head Writer on the original television series.
The film is produced by Paul Young, Tomm Moore, Nora Twomey from Cartoon Saloon, and John McDaid and Fionnuala Deane from Dog Ears, with the support of Northern Ireland Screen, Screen Ireland, RTÉ, and BBC Alba.
The original television series PUFFIN ROCK was nominated for an International Emmy Award and picked up two Kidscreen Awards and a Royal Television Award and was acquired by various broadcasters across the world.
Wildcard Distribution will release PUFFIN ROCK AND THE NEW FRIENDS in cinemas across Ireland and Northern Ireland on Friday 14th July.
International sales for the film are being handled by WestEnd Films.
Tags: