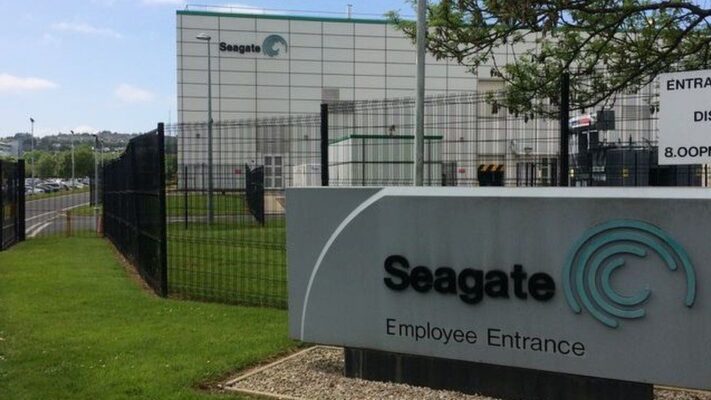 US-owned Seagate, which is wielding a second round of job cuts at its Derry site, has reported turnover up by 17% to $220m (£178m) in its latest financial statement.
And pre-tax profits rose by 10% to $15.9m (£12.8m) in the year ending July 1, 2022 at at Cayman Islands-registered Seagate Technology (Ireland).
The hard drive manufacturer reduced its Derry workforce by 30 employees in September 2022, and it is understood a further 116 jobs representing more than 7% of the team are to be offered voluntary redundancy in the latest cull.
Its latest financial statement outlines an October 2022 agreement by parent group Seagate Technology Holdings PLC's Board of Directors.
It commits to a "restructuring plan to reduce its cost structure to better align the group's operational needs to current economic conditions while continuing to support the long-term business strategy.
"The plan includes reducing its worldwide headcount by approximately 3,000 employees, or 8% of the global workforce. The associated impact on Seagate Technology (Ireland) is not expected to be material."
Employment numbers had climbed by 4% to 1,621 including the addition of 65 manufacturing roles in the year to July 1, 2022. Wages and salaries rose by 7% to $89.5m (£72m).
Seagate manufactures and develops read-write heads for use in data storage products sold by the group, largely destined for the Thailand market.
The firm said it continued to invest in its manufacturing capability of recording head wafers, employing the latest product and process technologies, throughout 2022.
Increased demand for read-write heads globally had boosted its turnover and operating profit, said director Johnny Choi with profits "partially offset by a tower gain on foreign exchange caused by movement in foreign currency rates during the year".
Further, "profit for the financial year has increased additionally due to movements in the tax credit/charge for the year," said Mr Choi.
Directors did not recommend payment of a dividend in 2021 or 2022.
US Special Envoy Joe Kennedy III recently highlighted Seagate as a success story of foreign investment in the North of Ireland, with the firm understood to have benefitted from almost £60 million in funding from Invest NI.
Tags: