The strike left director of BBC NI Adam Smyth to read the news as hundreds of journalists take part in the strike.
Radio Ulster programming has been replaced by national coverage on one of the biggest news days of the year.
The station's flagship breakfast show Good Morning Ulster was off the airwaves as vote counting began to elect 807 councillors across NI.
It was replaced by a Radio 5Live broadcast which provided regular national news bulletins and updates on traffic across England.
A local news bulletin was broadcast at 9am which was read by BBC NI chief Adam Smyth.
"Director Adam Smyth forced to read news bulletins on @BBCRadioFoyle and @bbcradioulster – because just about everyone else is supporting the @NUJofficial strike," the National Union of Journalists (NUJ) tweeted.
However, output resumed "as BBC Radio 5Live" following the brief update with The Nolan Show also off the air.
Radio 2 later replaced normal programming as Talkback was also off the airwaves on Friday afternoon.
A BBC Spokesperson said. "A significantly reduced news service will be available from BBC Northern Ireland on Friday, May 19.
"We regret the inconvenience caused to audiences.
"Fuller coverage of the local council election results will be available from Saturday 20 May."
A number of journalists picketed outside Radio Foyle holding signs which said 'stop the cuts' and 'support local news'.
The NUJ confirmed over 200 members within BBC Northern Ireland are taking part in the 24 hour walk out which commenced at 12.15am on Friday.
It was anticipated that the broadcaster's coverage of the local election results would be adversely affected.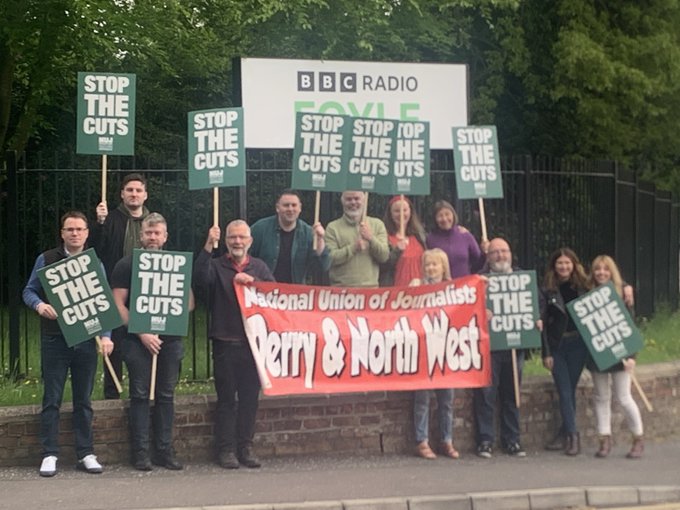 Industrial action had been agreed by staff opposed to proposed cuts to jobs and programmes which included the reduction of BBC Radio Foyle's breakfast programme.
The north-west's flagship morning show was axed last month and replaced with a half-hour news programme.
The move faced protests including a meeting in the Guildhall, and gatherings outside the station's Derry headquarters with signs reading 'Save Radio Foyle'.
The NUJ said the corporation's bid to save £2.3 million had resulted in 36 posts being cut, with the prospect of other job losses.
The first election results are expected on Friday afternoon with the counting due to continue into Saturday.
It's unclear if coverage will be affected once the strike is officially over.
A number of political parties have vowed to boycott BBC NI on Friday in a gesture of solidarity with staff.
Said SDLP leader and Foyle MP Colum Eastwood: "From the outset, the SDLP has warned that these cuts will have a devastating impact on local news coverage, particularly in Derry and the North West, and that they do not have the support of BBC staff or local people."
Tags:
NUJ members in Derry and Belfast downed pens at lunchtime today in a 24 hour strike over planned cuts.