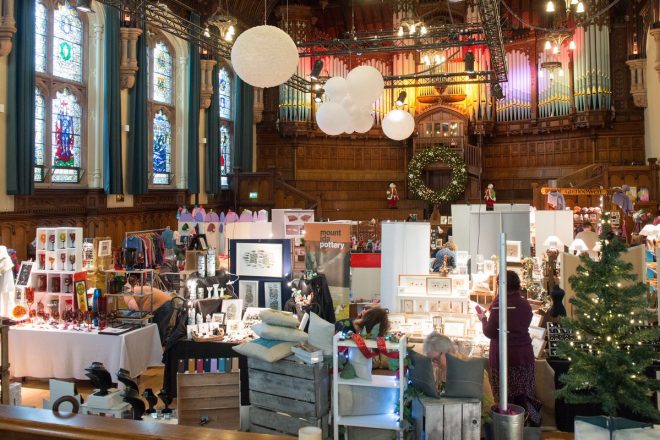 Applications are now being invited from craft designer-makers and artists from across Ireland to be part of the 2023 Guildhall Craft Fair.
Celebrating its 27th edition, the event made a welcome return to its homeplace of the historical Guildhall last November when almost 4,000 visitors attended over the three days.
The Fair is well established throughout the craft industry and has become a calendar event within the sector due to the high standard of goods for sale resulting from its strict selection process.
It is the fair of choice for many makers and artists as no imported or work is permitted at the event, with all of the goods on display handmade in Ireland.
Applications are also invited from artisan food producers as the event features a small food fair in the Whittaker Suite on the ground floor of the Guildhall.
Although there are only a limited number of stands available for this element, it has proved to be a popular feature with shoppers and traders alike.
"This is an extremely popular event that affords visitors the opportunity to find that unique gift for Christmas while simultaneously supporting independent artists and traders," explained Mayor Sandra Duffy.
"It is loved by people from across the region who journey to the city for this event each year to enjoy a wonderful showcase of beautiful, handmade goods, meet old friends and enjoy the festive atmosphere.
"We are very fortunate to have so many first-class artists and crafters wanting to be part of this event, they have created the solid reputation that the craft fair enjoys, presenting new and regular ranges that ensure people return year on year to find that special purchase."
The event will run for three days opening at midday on Friday November 17th until 6pm on Sunday.
A range of live music and choral performances will be on stage in the Main Hall throughout the weekend helping get everyone into the festive spirit of the season.
For further information regarding the application process and guidelines please log onto Council's website: www.derrystrabane.com/craftfair to download the relevant forms.
The closing date for all applications to be submitted is Friday 30th June at 4pm.
Tags: