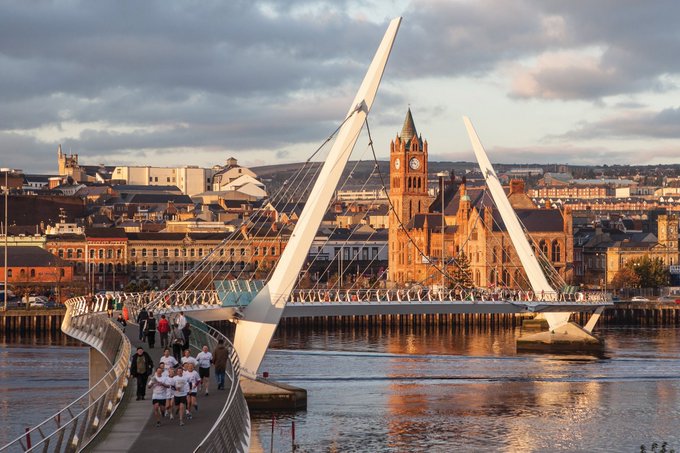 All eyes will be on how Sinn Féin can perform in the Derry City and Strabane District Council election this month after its difficult 2019 polling.
Political watchers will be focusing on Sinn Féin's efforts to recover after losing five seats last time out.
2019 was also a disaster for the party in the Westminster elections.
Elisha McCallion lost her Foyle MP seat in a landslide victory to SDLP leader Colum Eastwood.
As a result, the Sinn Fein leadership carried out an internal investigation into the Derry Sinn Fein branch and decided changes needed to be made.
The review called for sitting MLAs Martina Anderson and Karen Mullan to quit along with other members of the Derry Comhairle Ceantar.
The pair reluctantly decided not to run in last year's Assembly election.
Members of Ms Anderson's family refused to remain silent over the internal row.
In a stinging message on her Facebook page on behalf of her family, Ms Anderson's sister, Sharon Burke, said the one-time IRA bomber had been treated in a "brutal way" and "publicly humiliated" by a party "she loves and helped to build".
And the family said they believe if Martin McGuinness was still alive she would not have been forced out.
Anderson and Mullan were replaced by Ciara Ferguson and Padraig Delargy.
Changes within Sinn Féin have continued at local government level where the party's two sitting councillors in Sperrin, including former MLA Michaela Boyle, are retiring.
The party is also fielding a host of new faces in the Thursday, May 18 contest.
In all, 70 candidates will fight for the 40 Derry and Strabane seats.
The poll is also unusual in that 11 sitting councillors are fighting a local government election for the first time, having been co-opted during the life of the last council.
Six sitting councillors, including the authority's longest serving member, independent Sean Carr, are retiring.
If Sinn Féin's high-risk gamble is to pay dividends, the party will have to recover two seats from the SDLP, two from People Before Profit and one from Aontú.
It is likely Sinn Féin will target People Before Profit's Maeve O'Neill in the Moor district electoral area.
Ms O'Neill was co-opted to replace veteran campaigner Eamonn McCann when he stepped down in March 2021 due to health reasons.
Sinn Féin will likely target Aontú in the Ballyarnett DEA after former deputy leader Dr Anne McCloskey took a seat from them in 2019.
McCloskey stepped down in the last term and was replaced by Emmet Doyle who was unsuccessful as a candidate in the Moor DEA last time out.
The SDLP had a good election in 2019, taking a seat from Sinn Féin in Ballyarnett, largely through a very well-managed vote.
The Ballyarnett battle with Sinn Féin will be a key indicator on May 18 with margins too tight to call.
Within unionism, attention will focus on the performance of Ryan McCreadie (UUP) and Graham Warke (Independent) who resigned as DUP councillors during the last term.
The DUP has pulled out all the stops in its effort to regain the two seats, drafting in Julie Middleton, wife of junior minister and Foyle MLA Gary, in the Faughan DEA.
Alliance is fielding in all DEAs in the hope of building on its 2019 successes.
Candidates across the parties have reported the same issues being raised on the doorsteps. Among young people, key issues would appear to be transport and infrastructure as well as the cost of living crisis.
The cost of living, the continuing lack of a Stormont government and this year's unprecedented increase in rates in Derry and Strabane appear to be the main causes of concern among older voters.
With so many sitting councillors fighting an election for the first time against new-comers to the electoral battle, Derry and Strabane is almost impossible to call.
But Sinn Fein will be hoping that the 2021 'Night of the Long Knives' internal purge will reverse its political fortunes in Derry and Strabane.
CANDIDATES
Ballyarnett
Colm Cavanagh (Alliance)
Damien Doherty (People before Profit)
Emmet Doyle (Aontú)
Sandra Duffy (Sinn Féin)
Rory Farrell (SDLP)
Catherine McDaid (SDLP)
John McGowan (Sinn Féin)
Patrick Murphy (Sinn Féin)
Brian Tierney (SDLP)
Derg
Caroline Devine (Sinn Féin)
Steven Edwards (SDLP)
Leza Marie Houston (Aontú)
Derek Hussey (UUP)
Keith Kerrigan (DUP)
Adam McGinley (People before Profit)
Ruairí McHugh (Sinn Féin)
Anne Murray (Alliance)
Antaine Ó Fearghail (Sinn Féin)
Andy Patton (Independent)
Faughan
Hayley Canning (SDLP)
Alex Duffy (Sinn Féin)
Rachael Ferguson (Alliance)
Sean Fleming (Sinn Féin)
Damian Gallagher (People before Profit)
Ryan McCready (UUP)
Julie Middleton (DUP)
Declan Norris (SDLP)
Graham Warke (Independent)
Gary Wilkinson (DUP)
Foyleside
Lilian Seenoi-Barr (SDLP)
Shauna Cusack (SDLP)
Shaun Harkin (People before Profit)
Conor Heaney (Sinn Féin)
Seán Mac Cearáin (Aontú)
Stephen McCallion (SDLP)
Danny McCloskey (Alliance)
Grace Uí Niallais (Sinn Féin)
Sperrin
Jason Barr (SDLP)
Raymond Barr (Independent)
Paul Boggs (Sinn Féin)
Mel Boyle (Alliance)
Allan Bresland (DUP)
Maurice Devenney (DUP)
Tommy Forbes (SDLP)
Carol Gallagher (People before Profit)
Paul Gallagher (Independent)
Brian Harte (Sinn Féin)
Patsy Kelly (Independent)
Fergal Leonard (Sinn Féin)
Darán Mac Meanman (Aontú)
Glen Miller (UUP)
The Moor
John Boyle (SDLP)
Darryl Christy (Aontú)
Gary Donnelly (Independent)
Michael Downey (Alliance)
Dermott Henderson (SDLP)
Aisling Hutton (Sinn Féin)
Patricia Logue (Sinn Féin)
Emma McGinley (Sinn Féin)
Maeve O'Neill (People before Profit)
Waterside
Chelsea Cooke (DUP)
Caitlin Deeney (Sinn Féin)
Darren Guy (UUP)
Christopher Jackson (Sinn Féin)
Philip McKinney (Alliance)
Niree McMorris (DUP)
Janice Montgomery (UUP)
Sean Mooney (SDLP)
Davina Pulis (People before Profit)
Martin Reilly (SDLP)
Tags: