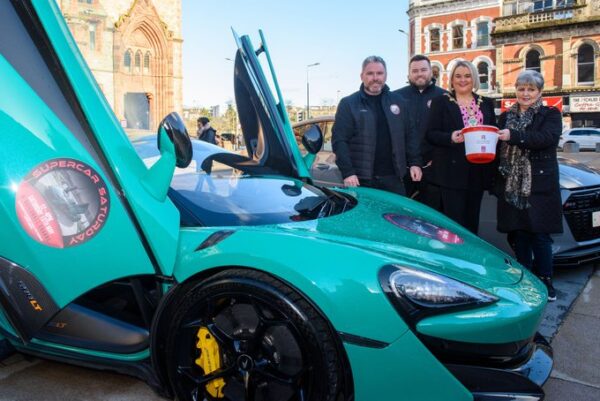 The Mayor of Derry City and Strabane District Council has expressed her excitement for another Super Car event to come to the city next week.
Following a fantastic event last week, when The Bear Run 74 saw over 60 super cars kick off their cross-county race from Shipquay Street, car lovers can get excited for the return of the Mayor's SuperCar Saturday next Saturday, May 13.
Local car enthusiast, Gary McCaul, is bringing up to 40 cars including Lamborghinis, Ferraris, Porsches and McLarens together with a world-famous ex F1 Champion's race car to Guildhall Square and Harbour Square for the public to get up close and personal.
Mayor Duffy is hosting the event to raise funds for her chosen charity, First Housing Aid and Support Services (FHASS).
FHASS is a local charity which tackles homelessness and the ongoing issues that come along with such difficulties such as addiction and therapy needs.
Mayor Sandra Duffy said she was delighted to see these mean machines return to the streets of Derry.
"We loved hosting the start of The Bear Run 74 last week, and there is clearly a huge supercar fan base here in the North West as the crowds were incredible. I am delighted to be able to bring this second event to the city and give people another opportunity to see these fantastic machines.
"This event will be slightly different as the cars will fill Guildhall Square, so people will get a one-off chance to get inside and see these super cars up close. You'll be able to get your photograph taken and pretend you're driving just like the movie stars."
Speaking of her continued fundraising, Mayor Duffy extended her gratitude to those who have already donated and continue to support her chosen charity, First Housing Aid and Support Services.
"This is a fantastic local charity which continues to be a life line to a lot of vulnerable people in our society.
"Money raised goes straight to those who need an extra helping hand, whether that's with accommodation, therapy or addiction needs.
"I really appreciate every penny raised and thank you all for your support throughout my year in office."
The Mayor's Super Car Saturday event takes place on Saturday, May 13, from 12pm until 4pm in the Guildhall Square.
For more information or to donate to the Mayor's Charity, please visit: http://bit.ly/42PCkTD
Tags: