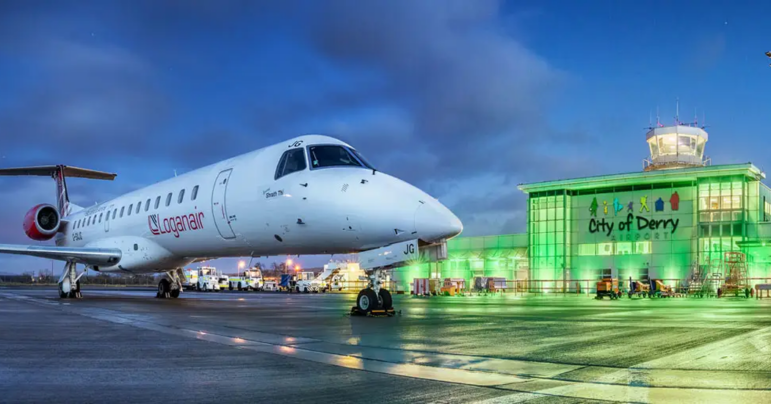 Loganair, the UK's largest regional airline, has today announced its intention to move the Public Service Obligation (PSO) air service linking City of Derry Airport and London into Heathrow with effect from 6 May 2023.
The airline has recently gained additional access to slots at Heathrow, and subject to Government approval, will move its Derry service from the current London terminus of Stansted into Heathrow's Terminal Two from Saturday 6 May.
This will offer improved access to central London – where the new Elizabeth Line now connects the nation's premier airport to key City destinations, offering faster and cheaper journeys than before.
Just as importantly, the move to London Heathrow opens up a tremendous range of new connections from City of Derry – firmly establishing Derry's place on the worldwide map of air routes.
Customers will be able to book single-ticket, assured connections to and from City of Derry via London Heathrow to 119 destinations in 56 countries.
Destinations across Europe, Middle East, North and South America, Africa, Asia and Australasia ranging from Singapore and Hong Kong through to Buenos Aires and Budapest will all be available from City of Derry through Loganair's growing range of airline partnerships, including with British Airways, the largest airline at Heathrow.
"The move to Heathrow truly is a gamechanger for City of Derry's air links," says Loganair Chief Executive Jonathan Hinkles.
"Alongside improved ground transport links into central London, the new range of global flight connections will bring new inward investment opportunities and tourism into the region, together with enabling travellers from the Derry City region to use their local airport to fly worldwide for the first time."
"We're delighted to be able to bring these new opportunities to our customers.
"I'd like to extend my sincere thanks to the teams at City of Derry Airport and to Derry City & Strabane District Council, who have enthusiastically supported and encouraged this move since the possibility first arose," he said.
Steve Frazer, Managing Director at City of Derry Airport said: "This proposed switch to London Heathrow from City of Derry Airport is an exciting time for the airport.
"Not only will this provide direct connectivity to London's premier airport, it also creates a 'Gateway to the World' via one of the world's best international hubs.
"This will be a significant step for economic and strategic growth across the Northwest, all from your convenient local airport."
Heathrow Chief Commercial Officer Ross Baker said: "Welcoming further Loganair services to Heathrow is exciting, with UK passengers and businesses set to benefit from hundreds of onward connections around the world.
"Our domestic charging discounts will continue to support further growth in our domestic network – which is vital to strengthen our role as the UK's hub airport, helping to level-up investment across the country, while connecting more people and businesses to global growth."
There will also be an increase in the number of flights between City of Derry and Heathrow following the move, with a choice of three departures in each direction every weekday throughout the year.
Previously, the third flight operated only on peak days during the summer season.
This will increase seat capacity by 12%, whilst more efficient air traffic routings into Heathrow will cut flight times and carbon emissions.
All flights will continue to be operated by Loganair's locally-based City of Derry crews and Embraer 145 aircraft.
All Loganair flights are covered by the GreenSkies programme with carbon emissions fully offset through certified international schemes to remove an amount of carbon from the atmosphere equivalent to that generated by each flight.
Tags: