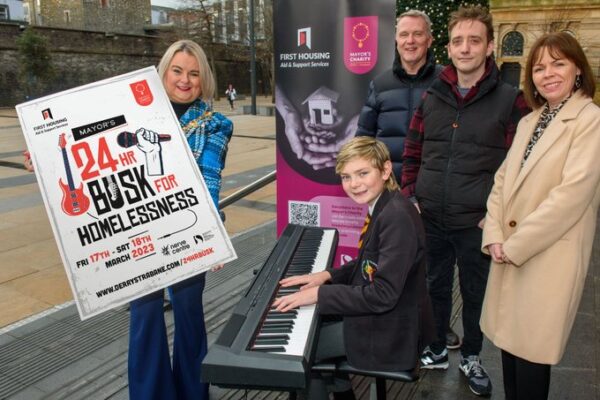 Guildhall Square is going to come alive with music for 24 hours as home-grown talent from across the North West come together to raise much-needed funds for a local homeless charity.
The Mayor of Derry City and Strabane District Council is hosting a 24-Hour Busk for Homelessness in aid of First Housing Aid and Support Services (FHASS).
The event will take place in the Guildhall Square from 6pm on Friday, March 17 until 6pm on Saturday, March 18.
FHASS is a local charity set up in the North West to tackle homelessness across the city and district and further afield, as well as the knock-on issues that come along with becoming homeless.
Working in collaboration with the Mayor, The Nerve Centre have organised an incredible line-up of over 100 participants who have donated their time and talent to try and raise vital funds for the cause.
Well-known musicians such as ROE, Paddy Nash and Polar Bolero as well as Cora Harkin and PORTS will take to the stage over the course of 24 hours.
PORTS are a four-piece band from Northern Ireland, consisting of Steven McCool (Bass and Vocals), Mark O'Doherty (Drums), Ryan Griffiths (Guitar) and Conor Mason (Piano). Taking to the stage on Friday night at 10pm, the band will play an acoustic set of their well-known songs.
Talking ahead of the event, vocalist Steven said they were delighted to take part in the event and be a part of this fundraiser to help those in need across the North West.
"We're really looking forward to playing the mayor's 24-Hour Busk in aid of First Housing Aid and Support Services. We believe that everyone has the right to support and a safe roof over their head, no matter their life circumstances."
Comedians Digger Brown, Peter Davidson and Claire Corrigan will also take to the stage on Friday night to inject some light-hearted humour into the event. Hot House Alumni and local choirs and community groups will be getting involved in the busk on Saturday afternoon.
One such community group is the amazing Tuned In Collective Choir, who will perform from 2:20pm until 3:20pm on Saturday.
The Tuned In Collective Choir is a part of the Tuned In Project – an innovative and inspiring community based project facilitating young adults with learning disabilities.
The Mayor's Busk is only the start of a busy calendar of events for this local choir, with excitement building as they prepare their set list of old and new songs.
"We're to take part in this fantastic event," said Margarette McNamee, Director of the Choir. "We try to empower our students through the creative arts and we're really passionate about inclusiveness – we can do anything we put our minds to, despite our challenges.
"We have a brilliant set of old and new songs to sing at the Busk, including a few sea shanties. We love to play music that means something, which like everything else, is a collective choice. From our uniforms to our songs, everything is chosen together as a group."
As well as the Tuned In Collective Choir, Voices of the Foyle Choir will treat passers-by to a list of contemporary Irish and Folk fusion tunes, with some well-known pop covers. Ruth McPhillips is a local singer and Musical Director behind not only the Voices of the Foyle, but two other acts who will busk on the day as well.
The Ringabellas Swing Trio, an all-female trio singing 40s & 50's hits and some unique arrangements of more modern songs, as well as Music & Me Sensory Sessions.
Music & Me Sensory Sessions is a baby & toddler multi-sensory group that meets every week in local community groups to support families to engage with their children in a fun and safe environment.
The toddlers have been working hard in preparation for their first big event, despite all being under three years of age.
"The Mayor has been such a great supporter of all three of my acts in her year so far, and I am really delighted to be able to return the support and perform as part of her amazing fundraiser for this wonderful charity.
"We all know how difficult it is at the minute, and while we are enduring a cost-of-living crisis, I hope that my acts, especially Music & Me creates a positive experience for those that might be facing some hard times.
"Who would have imagined I could put my folk-fusion mixed voice choir in the same event as my vocal swing trio and a baby and toddler multi-sensory experience? We're all really excited to take part in this family-friendly, fully inclusive event and we can't wait to help in any way we can."
The 24-Hour Busk will take place in Guildhall Square from 6pm on Friday 17th March until 6pm on Saturday 18th March.
To donate, please visit: https://bit.ly/3VrcVM1
For more information, please visit: www.derrystrabane.com/24hrbusk
Tags: