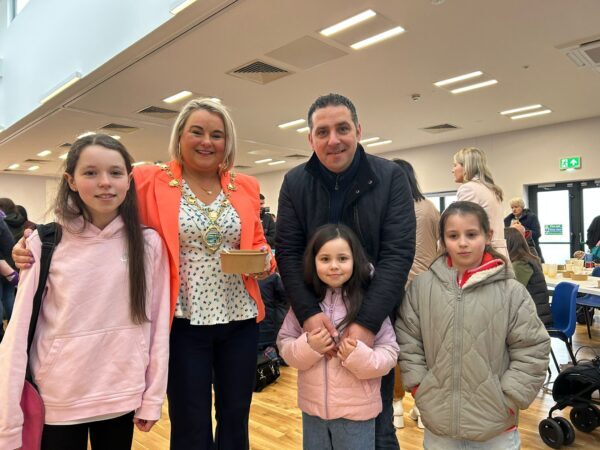 The Mayor of Derry and Strabane, Councillor Sandra Duffy, started the St Patrick's celebrations off early at the weekend with a visit to the Waterside Shared Village community hub, where a whole host of fun activities were taking place ahead of the big day.
Families were treated to fun and games and even enjoyed a sprinkling of magic courtesy of Parky the Magician, as well as some traditional dancing and other cultural highlights to mark St Patrick's Day, which takes place on Friday.
A whole host of local events are planned this week as part of the wider Spring Carnival programme, which is led by Derry City and Strabane District Council, culminating in the traditional annual St Patrick's Day parade bringing hundreds of local performers out onto the streets at 3pm on March 17th.
The Mayor said she enjoyed a fantastic start to the festivities on Saturday, which offered the perfect chance for local people to visit the brand new centre.
"I was delighted to asked along to the Waterside Shared Village Community Hub at the weekend, where the St Patrick's Day festivities were already in full swing.
"It was lovely to see this new shared space buzzing with activity and already becoming such an important facility right at the heart of the community.
"I look forward to being invited to more events at the centre, which has some fantastic state of the art facilities which are much needed in this area."
The Waterside Shared Village (WSV) includes a state-of-the-art hub building and sports complex located in the interface area between Irish Street and Top of the Hill.
The facility aims to build trust and reconciliation between the two communities by creating a safe place for residents to engage in activities together.
Tags: