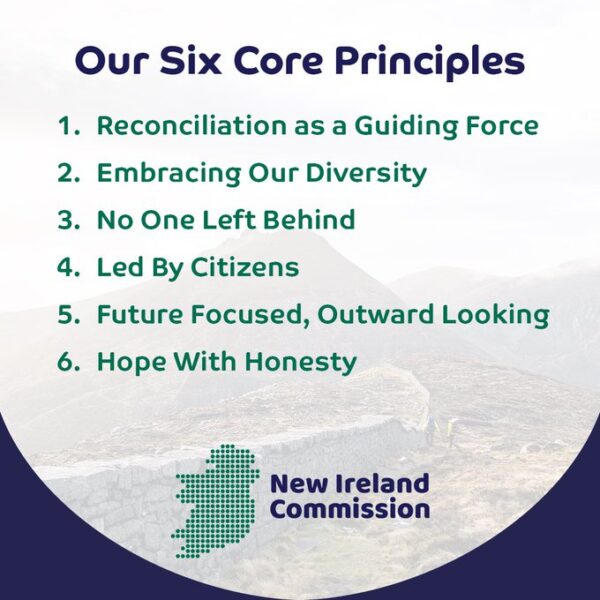 The SDLP's New Ireland Commission has published a set of six core principles which will guide its work toward building an inclusive new Ireland.
This marks the beginning of a new phase of the Commission's work with a public engagement programme now also underway.
The principles document sets out the Commission's objective to engage with people and communities across Ireland, to explore their hopes, fears and ambitions for the future and to be led by on overriding goal to further reconcile the people who share this island.
The six core principles are:
Reconciliation as a guiding force
Embracing our diversity
No one left behind
Led by citizens
Future focused, outward looking
Hope with honesty
Speaking as the Commission launched its principles document, SDLP MLA Matthew O'Toole said: "As we approach the 25th anniversary of the Good Friday Agreement, our politics and our fragile society continue to be buffeted by the headwinds of constitutional and economic change caused by a Brexit that the people of Northern Ireland did not support.
"The pace of change that has taken place over the last six years, in particular, has given many cause to stop and consider what a new future would look like.
"Since the SDLP launched the New Ireland Commission in 2021, a significant volume of engagement through private conversations within communities across Northern Ireland has already taken place.
"This work has been detailed, rich and necessarily candid.
"Now we are launching a period of public engagement with all those interested in the future of our island and it will be underpinned by six core principles which demonstrate our motivation in building a new Ireland for all our people.
"Central to these principles is our commitment that this is about more than simply uniting territory for us, it is about more than correcting some historic wrong.
"For the SDLP, building a new Ireland is the greatest opportunity to reconcile our people, maximise opportunity for every community and create something that is truly new, shared and better than what we currently live with.
"The SDLP's distinct contribution to this debate is reflected in the prioritisation of reconciliation, emphasis on pluralism in a new dispensation and commitment to social democratic values.
"Twenty five years after the agreement, and with the democratic institutions which gave it life still in suspension, now is the time for a new civic conversation about how the interests of our people are best served.
"The SDLP believes the solution is in a new Ireland but we are engaging openly, hopefully and honestly with every community to determine what that could look like and what it would mean for them."
Tags: