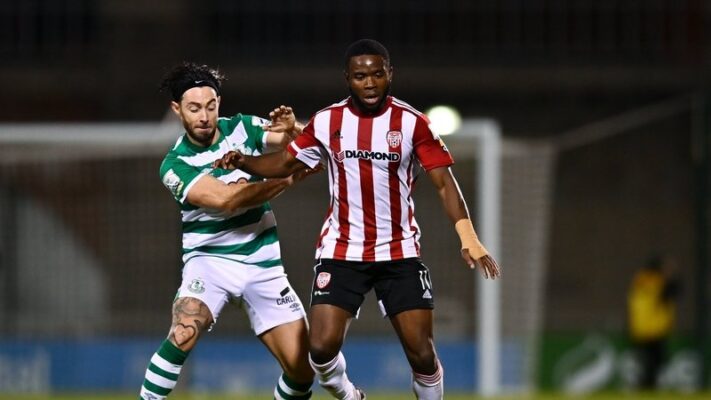 The first league meeting of title rivals Shamrock Rovers and Derry City is a mouth-watering encounter so early in the new League of Ireland season.
A winless start by Shamrock Rovers, a crisis of absent defenders and a Derry City injury hoodoo are just some of the storylines around a fixture which will attract over 7,000 fans to Tallaght Stadium tonight (kick off 8 pm).
The Hoops are aiming to make it four league titles in a row this year, with Derry expected to be the leading challenger.
Often a slow starter performance-wise, Stephen Bradley's side gradually get a stranglehold on the league and brush aside each rival.
It would be significant if Derry could go to Tallaght tonight and open up a five-point gap.
Red cards to three central defenders in the first two weeks leaves Stephen Bradley short on options and possibly needing a tactical reshuffle as Vinny Perth pointed out on this week's RTÉ Soccer Podcast.
The Hoops have not played in Tallaght yet this season due to work on the new fourth stand so a return to home comforts will be welcome.
For Derry, injuries to the likes of key men like Michael Duffy and Cameron Dummingan has left them down on options.
Ruaidhri Higgins watched his players do enough to beat a Cork City side struggling to adapt to the top flight.
The week before they came close to a much more eye-catching scalp of St Pat's Athletic before conceding in the final moments.
All in all, it sets up a clash between the likely top two in this year's league that will produce many talking points.
Alan Reynolds took charge of training at Derry City this week with Ruaidhri Higgins in Sweden following the untimely passing of his brother.
Higgins will return to the dugout in time for the game.
Reynolds, giving a squad update, said: "Sadou Diallo will be back and that's a great bonus for us and Adam has a chance of making it, but the rest will be out for another week at least.
"As Ruaidhri says though, we have the squad to cope with these things much better now.
"We lost narrowly on our two visits to Tallaght last year and it's something we want to improve on, so it's a game we'll go and try to win.
"It's a game we're excited about- a really good venue, great pitch and no doubt in front of a huge crowd too.
"There's very little between the teams and it's early in the season. People are still finding their feet so it'll be another tight game I'm sure."
Bradley is attempting to keep his cards close in how he will cope without his first choice defenders Lee Grace, Roberto Lopes and Dan Cleary due to suspension.
Sean Hoare, Sean Kavanagh and Ronan Finn are considered doubts – many of whom could have slotted into the vacant positions.
"We're not sure on all three, Bradley admitted.
"Even Sean Gannon's comeback in Drogheda was very early for him. We didn't want him to play a part in the game but obviously the way things played out we had to get him on.
"Sean Gannon, with his experience did really well. I'm glad he came through that game alright but the others.
"Ronan is the more serious of the three but we'll have to check on them and see how they're getting on."
Tags: