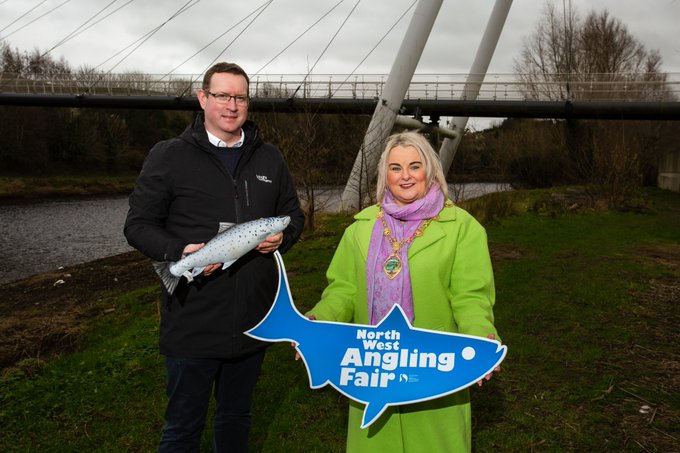 A host of world class fly dressers, casters and angling celebrities will join thousands of people on the banks of the Mourne on Saturday, April 1 and Sunday, April 2, when the North West Angling Fair returns to Strabane's Melvin Sports Complex.
The annual event, hosted by Derry City and Strabane District Council and the Loughs Agency, attracted its biggest ever attendance last year with over 3,500 people taking part.
The 2023 Fair was launched this week by Mayor of Derry City and Strabane District Council, Councillor Sandra Duffy.
"The North West Angling Fair is a great opportunity for the public to see internationally renowned fly dressers practicing their art and champion fly casters demonstrating their skills on the Mourne," she said.
"The free admission event offers advice and tactics for every level of angler from the experienced to those trying it for the first time.
"It also offers an opportunity for local traders to get involved and showcase their products at one of the biggest events of the year in the district."
The programme was approved by Council's Business and Culture Committee last week.
Aeidin McCarter, Head of Culture at Council, said the event played a key role in raising the profile of the city and district as an Angling destination.
"The Council's Festival and Events team are looking forward to delivering another family-focused event that builds on the success of recent years where it attracted record numbers," she said.
"The Fair promotes angling as a desirable pastime for young people, underrepresented groups and women.
"It also promotes our Council area from a tourism perspective, highlighting the natural resources we are blessed with that make us an ideal visitor destination for anglers."
Sharon McMahon, Loughs Agency CEO, added: "Following the success of last year's event, we are delighted that Loughs Agency will once again play a part in the ever popular North West Angling Fair.
"The attendance figures in 2022 show that angling in Northern Ireland remains a favourite pastime, and it is encouraging that participation from across all demographics has increased in recent years.
"Loughs Agency will be present at the Melvin Sports Complex to provide guidance for anglers on licensing issues, and the event will also provide a platform for promoting the projects and work we have been carrying out in the Foyle and Carlingford catchment areas."
Admission to the North West Angling Fair is free, for full details visit: www.derrystrabane.com/anglingfair
Tags: