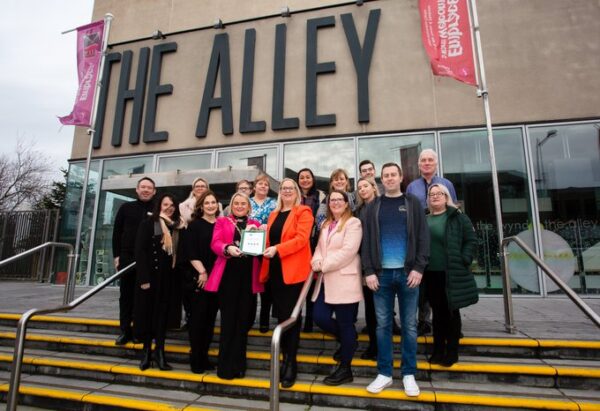 Mayor of Derry City and Strabane District Council, Councillor Sandra Duffy, has applauded staff at The Alley for their continued hard work and dedication to the theatre in 2022, following a successful year in business.
Alongside receiving the Grade 4 as a Tourism Attraction award from Tourism Northern Ireland, the mayor also gave credit to all staff at The Alley for an outstanding year in 2022.
Speaking at the engagement event, Mayor Sandra Duffy said she was delighted to join the team for a lovely afternoon and paid tribute to their hard work.
"I would like to formally congratulate and say a huge well done to all the staff at The Alley for their dedication and enthusiasm for their place of work . The Alley is a real asset to the town of Strabane and people from all over the district, and further afield, visit it for various activities and performances.
"Families come here to create special memories on St Patrick's Day, Halloween and Christmas, friends catch up at a show over a few drinks while students learn from the incredible exhibitions hosted upstairs. There really is something for everyone here and when people visit, they are always greeted with the biggest smiles and the friendliest staff. You should all be very proud of yourselves, and the brilliant establishment you get to call your workplace."
Management held a Staff Recognition Event in January 2023 to give credit the Alley team, say thank you for their continuous contribution and commitment. The Team also had an opportunity to give feedback from the previous year and share their ideas for the year ahead in a fun and interactive way.
Louise Boyce, Venue Manager relayed her appreciation to all the team and thanked them for their commitment throughout the year.
"We have had an amazing year in business and we would not be where we are today, as a lead venue attraction in the Northwest without our amazing team of staff.
"The staff have all did a brilliant job in creating a great place to be and they deserve to be recognised and congratulated for their hard work and dedication throughout the year.
"The team have worked hard with over 5000 patrons buying tickets and a total of 16,000 tickets being sold. We welcomed 11 incredible exhibitions last year and enjoyed 144 public auditorium days. As well as that, we were delighted to create another permanent post in our theatre."
To find out more or to view The Alley Theatre's Spring Programme, please visit: www.alley-theatre.com
Tags: