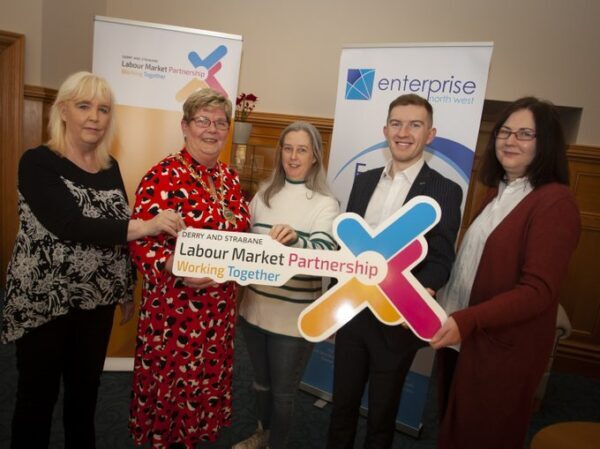 A new programme aimed at establishing a more cohesive approach to delivering employability support locally was launched today by Derry City and Strabane District Council.
The Enterprise Plus programme is led by the Derry and Strabane Labour Market Partnership (DSLMP), and will be delivered as part of a province-wide approach developed by the Department for Communities.
The programme aims to address issues with jobs and training by pooling local resources and delivering a joined-up and flexible approach to employability support.
DCSDC, along with the other 10 local authorities, has established a local Labour Market Partnership and action plan tailored to meet the needs of each individual council area.
The Enterprise Plus programme is a key element and will be delivered in partnership with Enterprise North West and Strabane Enterprise Agency, drawing on their expertise in delivering successful core enterprise development programmes.
Speaking ahead of the launch, Mayor of Derry City and Strabane District, Councillor Sandra Duffy, said it would provide much needed support for new entrepreneurs and anyone keen to explore the self-employment route.
"I am delighted to see this additional assistance being made available to anyone keen to get started in business but unsure how to take those crucial first steps.
"We have been through some very turbulent times in terms of the local economy and more than ever we need to share expertise and resources to support our local business community.
"I am really pleased to see this joined up approach being taken across all local Council areas led by the Department for Communities and I would really encourage anyone considering enterprise development or self-employment to find out what help is available through the Enterprise Plus programme."
A key priority for the Derry and Strabane Labour Market Partnership is improving employability outcomes and labour market conditions locally.
The Enterprise Plus Programme aims to assist local people who want to start a business but face a number of barriers in progressing through mainstream channels due to personal circumstances, as Labour Market Partnership Manager with Council, Nicky Gilleece, explained.
"Enterprise Plus will assist with developing both entrepreneurial and personal skills, as well as addressing structural and personal barriers, building capacity, confidence and self-esteem.
"It will also help participants to explore business concepts, leading to the development of business plans, testing of business ideas and establishing new businesses. The programme will help bridge that gap for individuals who may need some additional support to progress their business ambitions."
A spokesperson for Enterprise North West said they were delighted to work with Council on delivering the programme.
"Enterprise North West and our partner Strabane Enterprise Agency are delighted to be delivering this much needed support to local aspiring entrepreneurs.
"In our experience the combination of one-to-one specialist mentoring, workshops and financial assistance offered by Enterprise Plus is the best way to help new businesses get started."
To find out more about the Enterprise Plus programme and how you could benefit, email [email protected] or phone 028 7135 2693
Tags: