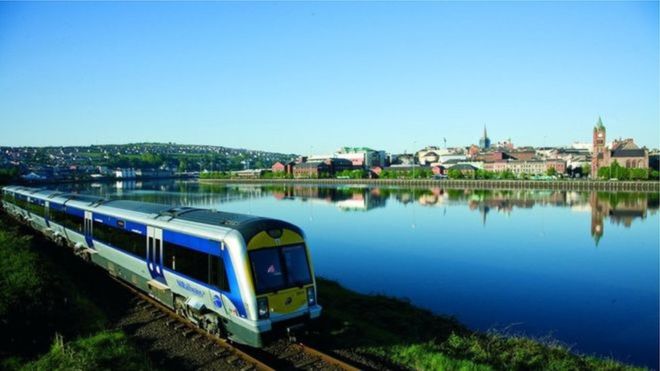 SDLP Derg Councillor Steven Edwards has tabled a motion to this week's Derry City and Strabane District Council (DCSDC) meeting calling on council to work with neighbouring councils and the Department of Infrastructure (DFI) to jointly fund a feasibility study into re-opening the Great Northern Railway line connecting Derry to Strabane, Omagh and Portadown through parts of Donegal.
Councillor Edwards said he believes councils have an active role to play in advancing rail expansion.
He pointed to Armagh City, Banbridge and Craigavon Council who have jointly funded a feasibility study with DFI on rail expansion to Armagh.
Said Cllr Edwards: "I do believe there are massive opportunities for rail expansion in the North West and West, in particular for Strabane and Omagh who have been without rail since the 1960's which has created a massive infrastructure and connectivity issue in the North West of Ireland.
"Rail has to be part of the future of the North West and West of this island. We need that connectivity along with the A5 upgrade.
"The issue of rail expansion in the North West isn't a nostalgic romantic notion.
"It is something that's very achievable and I know this through meeting with members of the Campaign for Borders Rail who have done a remarkable job in successfully lobbying for the largest rail expansion in the UK for the past 100 years.
"The Edinburgh to Tweedbank route was opened in 2015 and saw great success with passenger numbers massively exceeding original forecasts.
"We can have a similar experience here given that there is a political will to advance rail but we need to drive that agenda forward.
"That is why I felt it was very important to bring this motion to council.
"We have made some great strides in terms of advancing rail in the North with former Infrastructure Minister Nichola Mallon, along with her counterpart in the South Eamon Ryan, announcing an All-Island Strategic Rail Review consultation.
"Unfortunately that report has been stalled by the stalemate at Stormont which only adds to the need for councils to take action.
"My proposal requests that all neighbouring councils, Donegal, Fermanagh and Omagh and Mid Ulster come together along with DFI to fund a study around the feasibility of reopening the Great Northern Railway line which closed decades ago.
"All councils have an interest in this and I hope that they come together with DFI to fund this study.
"This would be a massive initial step in reopening the railways here.
"My motion stems from an Into the West rail lobby group meeting held in Strabane before Christmas.
"This motion is cross-party and has received support from all main political parties in our council."
Tags: