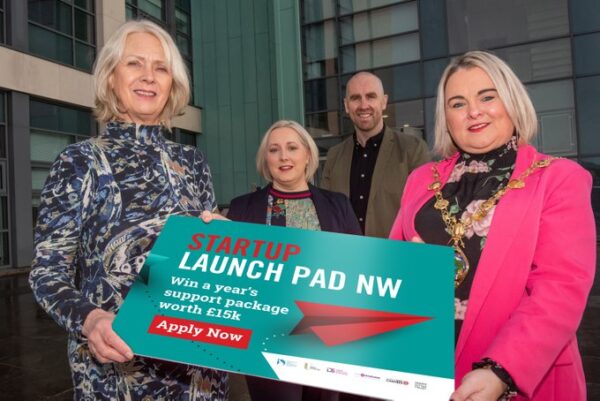 Budding entrepreneurs will go head to head to convince the judges they may be on to the next big business idea as they pitch for their share of a £15,000 prize up for grabs during this year's Enterprise Week.
Anyone with an innovative new business concept is invited to take part in the Start Up Launch Pad North West pitching event taking place at the North West Regional College Strand Road campus.
The event is brought to you by Derry City and Strabane District Council in association with Strabane BID, Derry Chamber of Commerce, Inner City Trust, Ulster University and Hyperfast NI, who are supporting the Student and Youth categories within the competition, which is open to students and anyone just starting out on their business journey.
A highlight of this year's Enterprise Week programme, the Start Up Launch Pad event provides a platform for new entrepreneurs to share their ideas with a panel of industry experts and media, in a Dragon's Den style showdown.
Up to 12 early stage start-ups will have the chance to win a share of the £15,000 prize, to help them get started on their business journey.
Launching the competition, Mayor of Derry and Strabane, Councillor Sandra Duffy, encouraged innovators, entrepreneurs and students to take part.
"The Start Up Launch Pad is a fun way for anyone to get valuable feedback from industry experts, as well as secure much needed support for them to get their business venture off the ground," said Mayor Duffy.
"As well as the pitching competition, participants will have the chance to hear from established business owners about how they got started and utilised the support that's out there to realise their ambitions.
"It's always a popular event so I would recommend that anyone interested get their entry in for consideration as soon as possible."
Successful start-ups will also be taking part in the event sharing their personal stories, and speakers will provide information on the current opportunities and support available within the sector to ensure start-up businesses have the best possible chance of success.
Head of Business with Council, Kevin O'Connor, said the launch pad event provided a great opportunity for idea testing. "Starting a new business venture is always a daunting prospect.
"The Start Up Launch Pad event is a chance to showcase new ideas in a positive and supportive forum where our experts can give advice on how to turn a passion into a practical and profitable business venture.
"Participants will also find out how they can avail of a wealth of research and innovation support available from the North West Regional College and University of Ulster.
"We have a fantastic pool of creative and innovative talent here in the North West, so I'm really looking forward to seeing this year's entries and to connecting new entrepreneurs to the mentors who could help set them on the pathway to success."
The Start Up Launch Pad North West pitching event takes place on Wednesday, March 8 at the North West Regional College Strand Road Campus, running from 9.30am – 4.45pm.
"It's part of the wider Enterprise Week Programme which this year centres on the theme of 'Seeds of Change', highlighting the Micro-Businesses and SMEs in the North West who have grown with purpose, driven by expert management as well as focusing on sustainability, digital technology, growth and innovation.
You can find out more about the Start Up Launch Pad event including how to apply for the pitching competition at: www.derrystrabane.com/launchpadNW
Follow the Business Support Derry Strabane social media platforms for updates on this and on all that's happening during Enterprise Week 2023.
Tags: