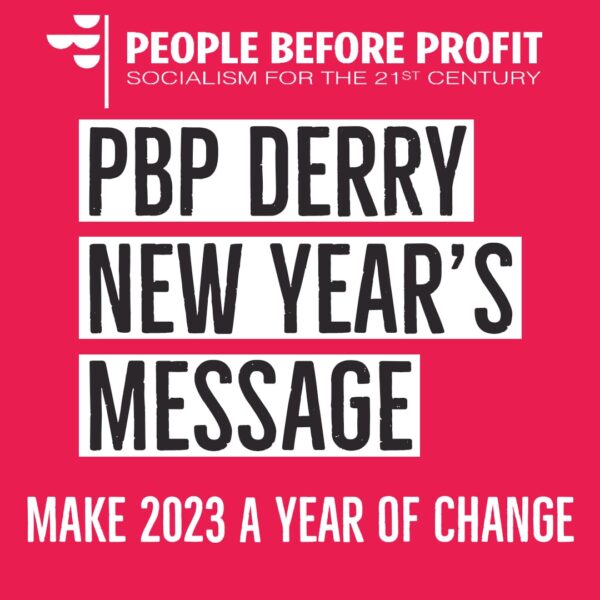 The Derry Branch of People Before Profit says its New Year's message is to make 2023 a year of change.
The local party said in a statement: "2022 was a year of tremendous pain for many in our communities but also a year of growing resistance to an unjust political and economic order.
"The pay revolt is putting it up to the Tories and corporate bosses in a way we haven't seen for decades. The hope for the New Year lies in developing these struggles into an unstoppable force for change.
"The Tories created chaos by doubling down on their commitment to fight only for the interests of elites. We shouldn't pay for their crisis while the super-rich party on record profits.
"The DUP, ever indulged by the Tories, spent another year contriving with the worst elements of loyalism to ratchet-up communal division and selfishly block a functioning government because they resent democratic change.
"Stormont paralysis has compounded the multiple crises we face but the claim its return will act as any kind of solution to our problems is nonsense.
"When Stormont was functioning the DUP along with its Executive partners presided over years of pay cuts for public sector workers, promoted privatisation of the health service, allowed the housing crisis to balloon, lobbied for tax cuts for corporations, were happy to maintain Thatcher-era anti-trade union laws, greenlighted destructive mining including industrial gouging of Lough Neagh and rammed through vicious welfare reforms.
"When it comes to Derry and the North West, we see the same failure to prioritise addressing regional inequalities. University expansion in line with our vision isn't a reality.
"Derry's rail tracks are literally second-hand and there's no urgency to expand train services as needed. There isn't any plan to up-end the status quo to properly tackle deprivation, house building, job creation, flood protection and a host of other social needs here.
"To understand why Stormont hasn't delivered change its necessary to accept sectarian deadlock is built into its DNA, as is a failed economic model that puts elites first.
"All the main parties in the North accepted this framework in the Belfast Agreement 25 years ago. Now, we live with its consequences. There was an alternative then and there is an alternative now.
"The desire to be rid of Fine Gael/Fianna Fáil rule in the South and to put an end to sectarian political dysfunction along with Tory overlordship in the North has never been more urgent.
"Simultaneously with building all-out support for strikes, cost of living crisis campaigns and movements promoting more rights and equality, it's a matter of urgency for all progressives and socialists to be centrally involved in discussions about the future of this island.
"100 years ago elites agreed to a cynical carve-up that produced two reactionary states and a divided working class that allowed them to protect their power, wealth and privilege.
"No one should doubt their willingness produce a 'New Ireland' that continues to put elites and corporations first while making some cosmetic changes to appease the massive desire for fundamental change that exists in every working class community.
"Progressives and the working class movement can't be silent bystanders in this debate.
"There must be a direct intervention from below to demand a new Ireland shaped by the vision of James Connolly that expands power for and redistributes wealth to the vast majority. We are for forging a united working class in pursuit of a united socialist Ireland.
"We start 2023 with a worsening NHS crisis, growing numbers facing hardship, threats to slash funding for youth services, proposals for Council austerity, planned cuts to Radio Foyle, further signs of destructive climate change – and more.
"But there's resistance on every front. Strikes, cost of living protests and opposition to austerity can develop into united coordinated all-out action.
"The stakes are enormous. We cannot expect change from Westminster or Stormont. It has always come from below.
"We need to amplify struggles, link struggles, deepen solidarity and broaden participation in people power movements.
"This is the key to winning better pay, pushing back on Tory engineered privatisation and shaping the destiny of this island.
"This is where the hope is and People Before Profit will do all we can to develop it.
"Let's make 2023 a year of change."
Tags: