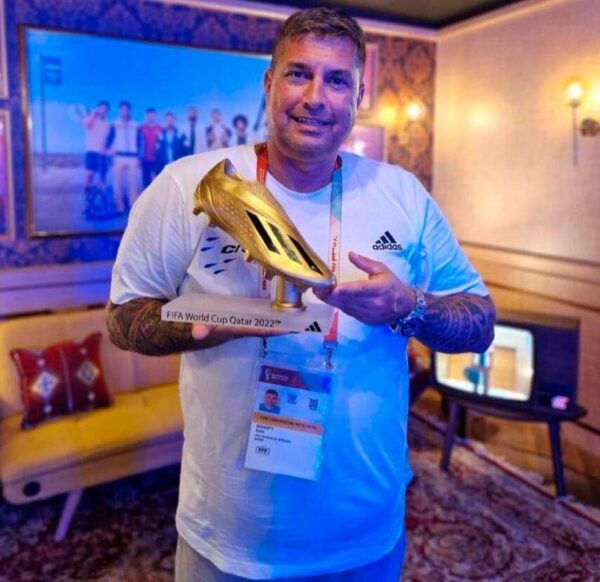 A Derry man has set the record straight after a video of him allegedly carrying the Golden Boot to the Lusail Stadium in Doha ahead of the World Cup final between Argentina and France was shared online.
Eddie Doherty was working at this year's World Cup as a crowd control manager in the Fifa Fan Festival Zone and described his time working in Qatar as "unreal".
On Sunday night, a video of Mr Doherty was shared on Twitter where he said he was delivering the Golden Boot to Adidas management.
But many mistakingly believed he was en route to the World Cup final.
"I think everyone has this perception that I delivered the Golden Boot," he said.
In fact, the footage of him carrying the Golden Boot was taken a month ago.
"It was displayed at our stand in the zone — the Adidas Activation Zone," explained Mr Doherty.
"About a month ago I was asked to take it out of the park and deliver it to Adidas representatives as they needed it for a photo shoot the following morning."
The Golden Boot needed to be hand delivered to the Adidas representatives and Mr Doherty rose to the occasion.
"There was no access for transportation as we had a live area with over 20,000 fans in at the time. So I was tasked with walking it to a pick up point where transport was waiting for me," he said. The trophy needed to be carried in a secure case to ensure it stayed in pristine condition ahead of the tournament.
"I delivered it safe and sound," Mr Doherty said.
He worked in Qatar during the building of the stadiums, as well as during the World Cup finals.
"I was working at the fan zone firstly as health and safety manager during the build," said Mr Doherty. "Then as a crowd control manager for an event security company during the matches shown on huge screens."
Mr Doherty didn't have the same World Cup experience as other fans during the tournament as he couldn't make it to any of the games.
"I didn't go to any of the stadiums to watch the matches as I was working most days but I watched and experienced everything at the fan zone which was amazing, it was unreal working behind the scenes," he added.
"I have to say the Qatari people made it for me. So welcoming, respectful and caring people."
Tags: