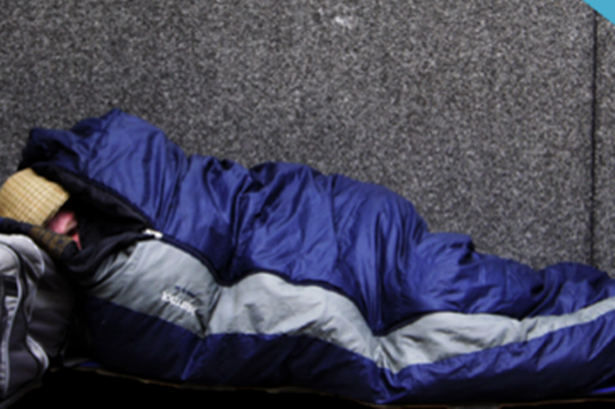 The North of Ireland is heading into a "homelessness disaster" this Christmas, a charity has warned.
The Simon Community says the cost-of-living crisis is making many people unable to afford payments on their homes.
Sinead McFadden, from First Housing Aid in Derry, said a lack of suitable accommodation means more and more people were finding themselves struggling to find places to live in the north-west.
"There's been more than a 50% increase in the Derry City and Strabane District Council area alone in the past four years," Ms McFadden said.
"We now have over 1,000 people in temporary accommodation in that area and unfortunately we are now looking at a situation where demand is outstripping supply."
Simon Community chief executive Jim Dennison says the charity is also seeing more people sleeping out on the streets.
"We are rapidly turning from a homelessness crisis into a homelessness disaster," Mr Dennison has said.
Speaking to BBC News NI, he said that the Simon Community is seeing cases of "individuals who simply can't afford to keep their own homes".
"They can't pay mortgages, they can't pay escalating rents so poverty is a real issue."
Mr Dennison said the charity is seeing an increase in people living on the streets because some people feel they have exhausted all options and are desperate.
"Even just being out with a coat on in -2 degrees is bad, but having to sleep through the night in that is absolutely horrendous. It's heartbreaking."
The organisation and its partners manage about 480 beds in emergency accommodation.
Resources are "are extremely stretched", he added.
"We run at full occupancy nearly all the time and for every bed we have there is a demand that is 15 times greater than supply," Mr Dennison said.
Mr Dennison said the Simon Community has never seen things as bad as they currently are in Northern Ireland.
"We are looking at 4,000 children in emergency accommodation this Christmas – like B&Bs, hotels and homeless hostels.
"We're looking at about 44,500 people and families being on social housing waiting lists, many of those individuals are in acute housing need.
"We are also looking at, on average, 1,000 people in Northern Ireland legally being deemed homeless here every month."
Mr Dennison said those figures are based on data published by the NI Housing Executive and also from information gathered by the Simon Community's research and development department.
The most recently published Housing Executive figures show that there were 44,426 applicants on the social housing waiting list as of 31 March 2022.
Within that figure, 31,407 of those applicants were deemed as being in "housing stress". These are people who are classed as being higher priority cases for housing.
The areas with the highest number of applicants on the social housing waiting list were Belfast (12,237) and Derry City and Strabane (5,531).
The highest proportion of people presenting as homeless were families and single males.
There were 10,135 households accepted as statutorily homeless by the Housing Executive from April 2021 to March 2022.
The Housing Executive is responsible for providing accommodation for anyone who is deemed "legally homeless".
For a person to be defined as "legally homeless", it does not mean that they need to be living on the streets.
They need to satisfy four conditions: eligibility, homelessness, priority need and intentionality.
Someone can be legally homeless, for example, if they are living in a place that is damaging to their health, they are at risk of violence, living in overcrowded conditions or staying with friends.
Tags: