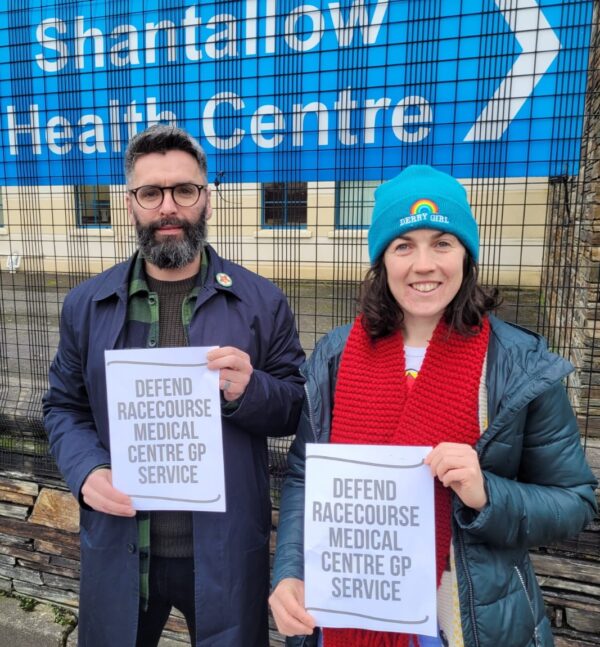 A Day of Action has been held to maintain GP surgery at Racecourse Medical Practice in Shantallow Health Centre.
The Day of Action was organised by campaigner and trade unionist Damien Doherty.
Speaking at Shantallow Health Centre, People Before Profit representative Damien Doherty said,
"We delivered hundreds of leaflets to residents around the area making them aware of the threat to GP services at the Racecourse Medical Practice and urging them to support the campaign to make sure they are maintained.
"We spoke to many residents registered with the GP surgery there who didn't know there was an issue. Everyone was fully supportive of the Western Trust stepping in if necessary.
"We've spoken to GP surgery workers to make sure their rights are properly protected
"We encouraged residents and workers to back any protests and circulate the petition supporting the maintenance of GP Services.
"We share the alarm many feel for the future of the GP surgery in Racecourse Medical Practice.
"It's vital GP services are protected and kept local for elderly and vulnerable patients in the vicinity.
"It's essential GP services are secured beyond the next 6 months as a strong primary care service for the area is vital.
"The Department of Health must do all it can to make sure GP services are maintained here and this includes the Western Trust stepping in if necessary.
"GP services are part of the health service's frontline and their future viability must be a priority.
"The strain many GP services are under from rising bills and too few primary care doctors is well documented, as is the frustration many have expressed at the lack of access.
"The collapse of GP services in some areas contributing to overwhelmed emergency departments isn't sustainable or acceptable.
"The crisis in GP services has been long in the making – fuelled by Westminster's and Stormont's criminal failure to workforce plan and their overall neglect of the health service.
"The campaign to save our health service and develop more sustainable frontline GP services is now urgent. We need greater investment based on increasing taxes on corporate profiteers and an end to privatisation to protect all aspects of the health and social care service."
Defend GP Services at Racecourse Medical and sign the petition here:
https://www.change.org/p/save-gp-services-in-racecourse-medical-centre
Tags: