The move by the Unison and Nipsa unions follows an announcement by the Royal College of Nursing that its members will strike on December 15 and December 20.
Unison said the cost-of-living crisis was "biting deep" and it was "foolish" to assume workers would "suck it up".
Nipsa said the action was "likely to be the strongest ever" by health staff.
Unison members will take action short of strike on 5 December before a one-day strike on 12 December.
Nipsa members will begin "indefinite action short of strike" on 5 December.
Patricia McKeown, Unison's regional secretary in the North, said action short of strike meant health staff would only work the hours they were contracted to do.
"There are thousands of free hours given by health workers to the system every week," she said.
"People do much more than they are paid to do and we are asking them to stop that.
"They will stop covering for free all the jobs of the people that are currently missing from the system – they will get on with their job.
"Those thousands of free hours that will be missing from the system will have an impact."
Nipsa deputy secretary general Padraig Mulholland said the health service had reached a "tipping point".
"What may appear to be sort of the norm in other jobs is not the norm in the health service and it's an extraordinary state of affairs where people can't even eat their lunch," he added.
Health workers in the North of Ireland have yet to receive an increase in pay for the 2022-23 financial year.
In July an independent pay review body recommended that they should receive a rise of £1,400.
In England and Wales, NHS staff have been given a rise of at least £1,400.
Unions in Scotland are considering a government offer averaging 7.5% that was made last week.
Ms McKeown said health workers in the North of Ireland did not want to take strike action but felt they had no other option.
She said Unison hoped NI Secretary of State Chris Heaton-Harris would intervene to solve the pay dispute.
Nipsa said 92% of its members who took part in a ballot voted for strike action and 97% supported action short of strike.
Its members are taking the action on three fronts – pay, travel reimbursement and staffing levels within the health service.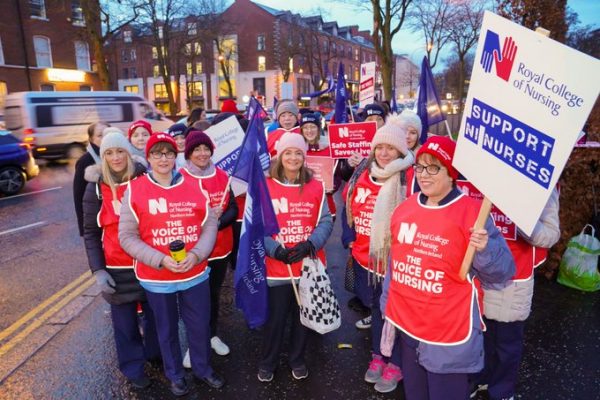 The union said the safety of patients "remains a priority" and it was having discussions with health service employers in order to "take the necessary steps to protect patients during the dispute".
"We'll be engaging with management to ensure that life and limb of the patient is not put at risk by any action that is being taken," Mr Mulholland said.
Health staff in the North last went on strike in late 2019 and early 2020 in protest over pay and staffing levels within the health service.
Tags:
Healthcare staff who are members of two of biggest unions in the North of Ireland will begin industrial action next Monday, December 5, as part of a dispute over pay.