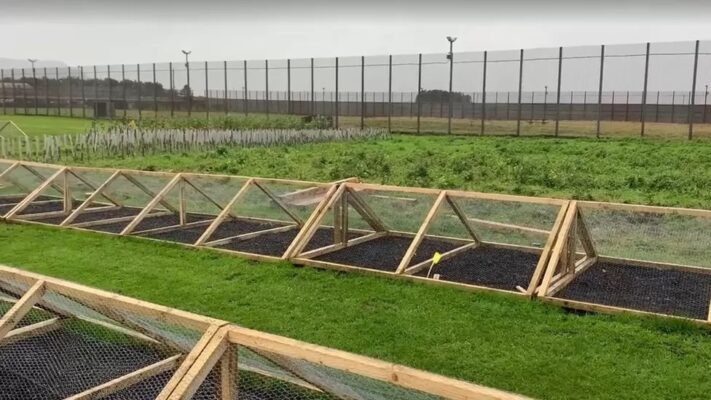 A Co Derry prison has become the location for a native tree nursery as part of a new environmental project.
The scheme, which involves specially-selected prisoners at Magilligan Prison in Limavdy, is aimed at protecting and developing woodland.
Inmates at the Point Road prison cultivate British and Irish trees species which are currently in short supply.
It is the first scheme of its kind in the North of Ireland, according to the Department of Justice.
The Justice for Woodlands project is a joint venture between Magilligan Prison, Binevenagh Landscape Partnership Scheme, Woodland Trust and Causeway Coast and Glens Heritage Trust.
The Department of Justice gave BBC News NI special access to film inside the prison grounds.
The nursery within the walls of the prison grows holly, guelder rose, hazel, willow, and wild cherry trees.
Magilligan Prison activities governor Malcolm McClenaghan said the native tree nursery is ideally located because of the abundance of green space within the prison walls.
He said the prisoners have responded really well to the new project.
"Many prisoners will undoubtedly feel disconnected from the local community so this project helps them give something back," Mr McClenaghan told BBC News NI.
"They are growing trees for communities against which they have offended and it also gives them additional skills, which they can then take out with them upon their release from prison."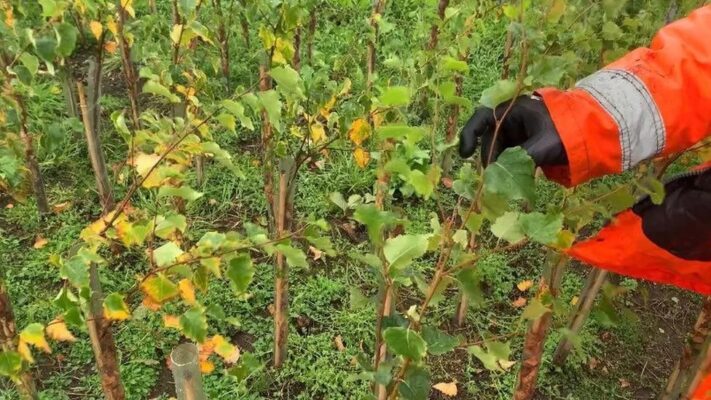 Aisling Gribbin from the Binevenagh Landscape Partnership said funding from the Northern Ireland Environment Agency helped get the project off the ground.
Ms Gribbin said in the first year of the project an estimated 70,000 native tree seeds will be sown.
"Within this project we collect seeds locally and bring them into the prison where the inmates then help me process them and grow them on," Ms Gribbin said.
"We are at the stage now where we have seeds in pot over winter and the inmates will then help me sow those out over springtime."
Ms Gribbin said having a native tree nursery helps ensure a stock of local trees for the future.
"In Northern Ireland we are one of the least wooded countries in Europe and the UK and previously a lot of our tree stock would have been imported from elsewhere, which carries a risk of disease.
"I think in terms of having our own native stock, native tree nurseries like this one that can produce from local seeds for local projects is just so important."
One prison inmate involved in the project told BBC News NI that he would have struggled to name a single tree species before being involved in the project, but now has developed a real passion for them.
"I've actually learned a lot from the project, I've learned how to germinate seeds and I've also learned how to plant stuff," he said.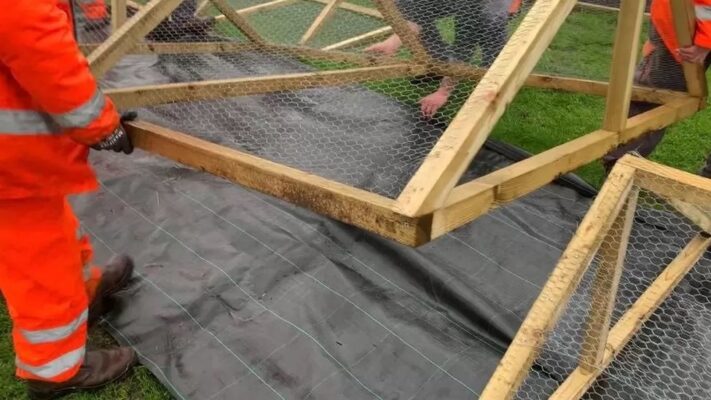 "You're checking on the trees to see how they're progressing and whenever I'm out of jail I'm actually going to plant some trees next to my garden now.
"You don't just plant a tree for you, you're planting it for the future."
The prison has already begun providing native trees for new woodland as well as expanding existing wooded areas in Northern Ireland.
In a statement, the Department of Justice said the nursery is registered with the UK and Ireland Sourced and Grown (UKISG) and can supply trees to the Woodland Trust.
Tags: