The 15-mile stretch is part of the A6 upgrade linking Derry and Belfast.
Stormont's Department for Infrastructure (DfI) said key aspects of the project have yet to be completed.
However, DUP East Derry MP Gregory Campbell said the project had now become "a fiasco".
Work on the road started in 2018 and had been due to be completed earlier this year.
DfI said while the road upgrade is "well advanced" essential aspects, including safety barriers and lighting, have yet to be completed.
It said at present it is not possible to "provide an exact opening date" for the road.
Speaking to BBC Radio Foyle, Mr Campbell said the A6 should be "a tremendous asset".
"But it is an embarrassment to the department now. This fiasco has gone on for far too long," he said.
The DUP MP said a public inquiry is needed to establish "how it has come to this".
He said it is needed to establish the nature and cost to the public of the scheme's "inordinate delay".
Foyle SDLP MLA Mark Durkan said an inquiry would "demonstrate the shortcomings and what they (DfI) can learn and not repeat".
He said it has become increasingly challenging to get updates on the road scheme from DfI.
"Over the past six to eight months it has become much, much more difficult to get information from the department as to what is happening and when we can expect to see completion of this much needed and long overdue project," he said.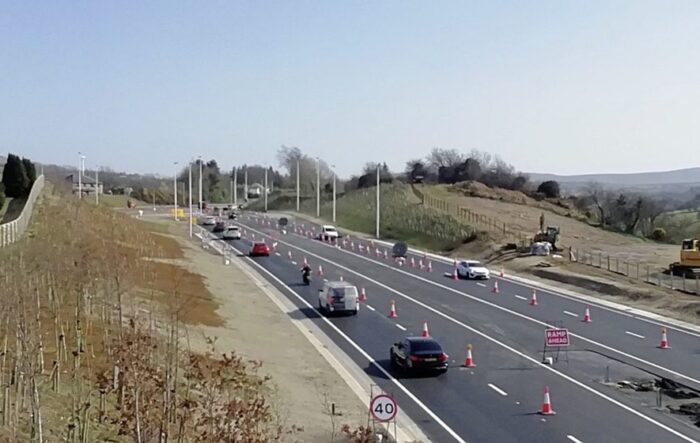 In September the department said supply-chain issues and global-market volatility were causing the delays.
It said at that time it was "working closely with the contractor" to agree a completion date.
The continued delays are causing frustration for commuters and affected businesses.
At present there are a number of diversions and speed restrictions in place to accommodate the ongoing work.
Brian Cassidy owns a cycle shop in the Co Derry village of Claudy.
"People are stopping with us, asking how to get to Derry, Belfast, Claudy," he told BBC Radio Foyle.
"They are turning off not knowing where they are going. We have had lorries stuck up the road, 40ft lorries on back roads that are not designed for them, purely down to signage."
In a statement the DfI said the "work items yet to be completed" include "the provision of safety barrier, road marking, signage and street lighting".
The department added: "A Road Safety Audit must then be completed before the road can be fully opened.
"The outcome of the audit process may recommend some safety-related amendments and therefore it is not possible to provide an exact opening date at this time."
It said it "is currently envisaged that the road will open in the coming months".
Tags:
Politicians have called for a public inquiry into ongoing delays into the completion of a new dual carriageway between Derry and Dungiven.