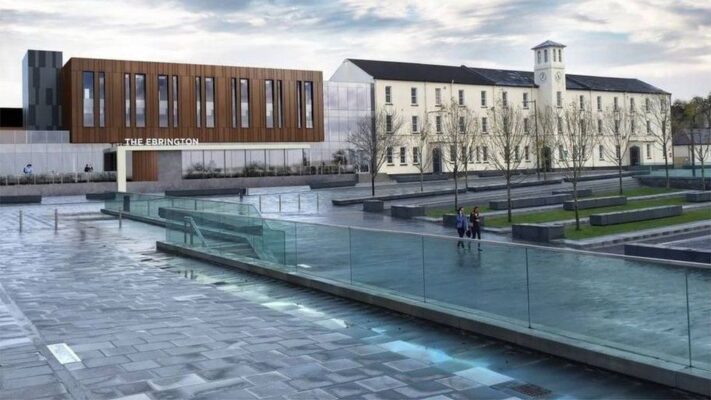 There will be no further live events at Derry's Ebrington Square in Londonderry until the end of July 2023.
Stormont's Executive Office has told BBC Radio Foyle the decision had been taken due to significant construction work at the site, and health and safety risks.
It has also been confirmed that the visitor car park will no longer be available.
Sinead McLaughlin said the news would be met with widespread disappointment.
The SDLP Foyle MLA said health and safety was paramount, but believed greater engagement with politicians could have helped to explore all options before a final decision was made.
"We would have liked to have had more engagement to see if there could be dual-use of the site, to see if events could still go on, even on a reduced scale, rather than cancelled all together," she said.
In January, the functioning Stormont executive announced a £15 million investment for a new 152-bed hotel at the site.
The planned work would see the refurbishment of the clocktower and five buildings in the former military base.
DUP Foyle MLA Gary Middleton said the move was not only a blow to event promotors, but local people.
"People will now have no choice but to take events elsewhere and that's certainly not something we want to see," he said.
"We want to encourage people to come here and enjoy what the city has to offer, but also people will now need to travel out to places like Belfast rather than bring entertainment to their doorsteps."
A spokesperson for Ebrington Square said events would return from the end of July next year.
They added that Derry City and Strabane District Council should be contacted directly about availability of St Columb's Park.
In a statement, the council said a new application process for major events held in Ebrington Square and St Columb's Park has now opened.
The Executive Office (TEO) and the council have announced the Joint Event Application process which is open to all and will be for a two-year period (2023 & 2024).
Applications will be assessed by a panel of representatives from TEO, DCSDC, Visit Derry and Tourism NI who will consider each application and allocate a location if successful.
"Due to significant construction works on the Ebrington site and the Health and Safety risks associated with this, it will not be possible to host events on Ebrington Square until the end of July 2023.
"Sporting events, including those previously hosted in the Park, will take priority.
"Recurring annual Park events will also be given priority.
"This new process will deliver a joined-up approach for events on Ebrington Square and St Columb's Park, help improve the quality of events, give event promoters security of venue for a longer period, and allow them to plan and secure acts well in advance."
Tags: