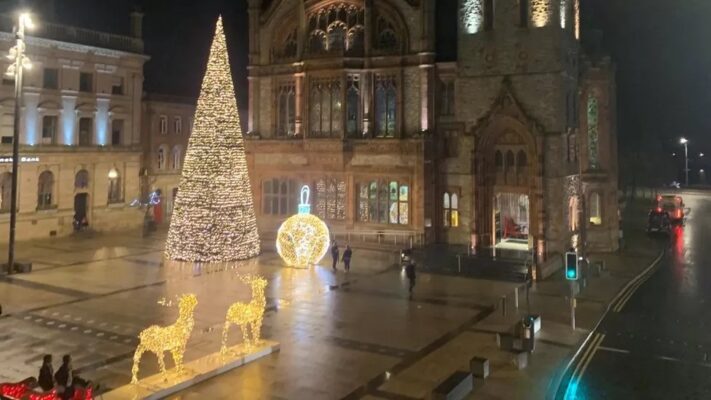 Derry City and Strabane District Council has decided to switch its Christmas light decorations off early during the cost-of-living crisis.
It told BBC News NI the Christmas lights would be switched off at midnight each night "where technically possible".
A spokesperson said the move would save energy and keep costs down.
No other council in the North of Ireland has opted to make a similar change.
Mayor Sandra Duffy said that at a time when many families are cutting back, the council also needed to do its part.
"We are so delighted to have a full Christmas programme on offer across the council area again this year after the Covid pandemic impacted previous years," said Mayor Duffy.
"But to have our Christmas lights running until the early hours of the morning when not many people would see them just doesn't make sense.
"I think at a time when so many people are struggling financially and cutting down, it is only right we at the council also cut back."
The move comes as the council faces "significant financial challenges" as it moves towards setting rates for next year.
Last month, it projected additional costs of more than £1.5m to cover soaring energy costs.
The council had estimated that an extra £980,000 would be needed to fund electricity, gas and oil for its nine leisure centres.
A finance working group has been established at council level "where elected members are examining all budgets in detail and reviewing all possible saving opportunities".
Independent unionist councillor Graham Warke said the decision was a necessary one and that families would still have plenty of opportunities to enjoy all the Christmas decorations and lights.
The former mayor said the move would not dampen any Christmas spirit in the district and the city would look amazing in the run up to Christmas.
Tags: