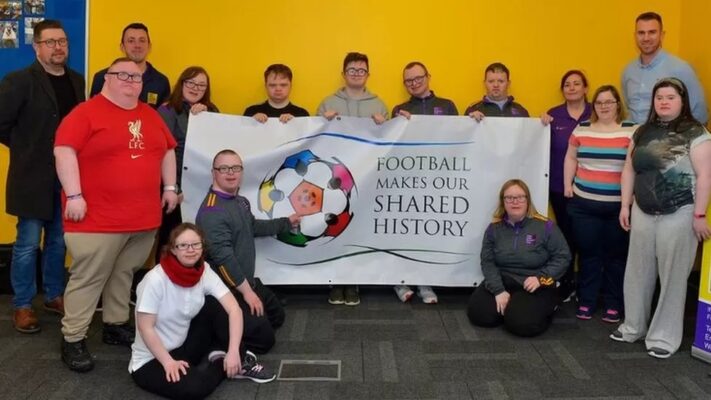 A play area for young people with learning disabilities in Londonderry is to become a new "peace pitch".
The move is part of the Football Makes Our Shared History project.
It pairs areas with Flanders Peace Field in Belgium, the site of the Christmas truce during World War One.
On Christmas Day 1914, a series of unofficial ceasefires took place when opposing soldiers met in No Man's Land to sing carols, exchange gifts and play football.
That patch of land, where battle was temporarily stopped, is now being twinned with a site used by the Foyle Down Syndrome Trust.
The Cregagh Green in east Belfast, where George Best kicked a football as a child, was twinned with Flanders Peace Field in 2018.
A rugby pitch at Enniskillen Royal Grammar School was also twinned with the site in 2019.
Speaking to BBC Radio Foyle, manager of the Foyle Down Syndrome Trust, Christopher Cooper said the trust was very excited to be involved with the project.
"We were approached to see if we would like to be involved in the worldwide project and getting a peace pitch in Derry.
"The ethos of play, coming together, sharing history and lives is really important to us, and we thought we would love to get involved."
Tags: