The demonstration in Guildhall Square on Saturday afternoon was organised by the Mayor of Derry City and Strabane, Sandra Duffy.
The Sinn Féin councillor said she wanted to highlight the pressures facing workers and their families.
"People are already struggling to pay their bills. This is a cost-of-living emergency" she told the rally.
"Huge hikes to energy prices which will see household bills go through the roof are placing huge worry on families.
"The British government needs to introduce measures that will cut people's bills and put a stop to people being ripped off.
"People in this city need an executive up and running, ministers in place, and parties working together to put money in their pockets."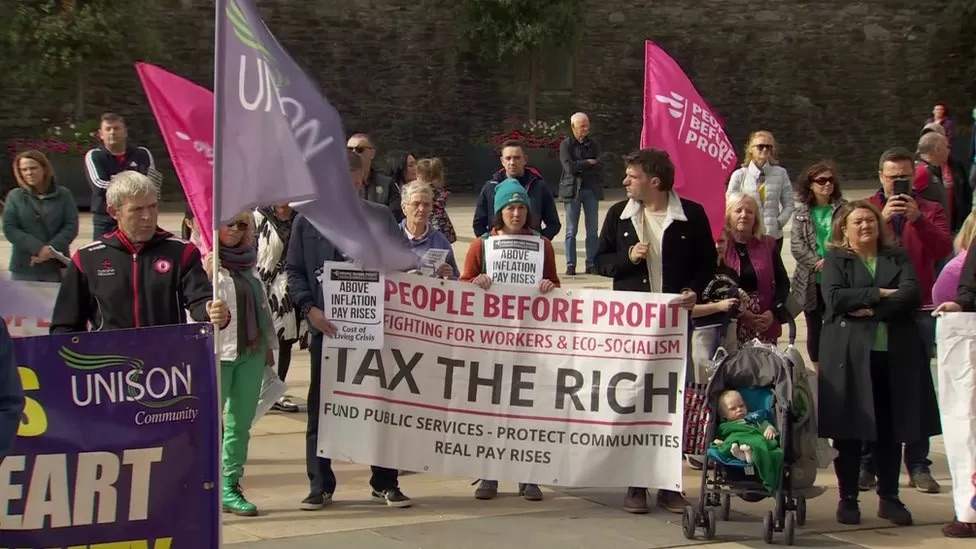 The event was attended by trade union members as well as the Derry Against Fuel Poverty group.
On Friday, Chancellor Kwasi Kwarteng unveiled the biggest package of tax cuts in 50 years in a so-called mini-budget.
Income tax and the stamp duty on home purchases will be cut and planned rises in business taxes have been scrapped.
Mr Kwarteng said the moves would boost economic growth.
However, the North's finance minister Conor Murphy said it had favoured the wealthy over "ordinary workers".
It was also criticised by the Alliance Party and the SDLP, while the Ulster Unionist Party said it was a "huge gamble".
The DUP welcomed the plan.
People Before Profit councillor Sean Harkin said people needed to make their voices heard.
"I think yesterday's budget would have given people no comfort at all," he said.
"This really was a budget for billionaires and millionaires and I think that it is very disappointing but not surprising."
He said people needed to start mobilising in large numbers and protesting to "send a message" that it was "unacceptable".
Sinead Quinn, from Derry Against Fuel Poverty, said she had been in contact with a lot of people who were running out of oil and gas.
"I am so fearful of what's coming down the line, whether it be in November, December, January," she said.
"People are really really struggling already and the avenues are drying up in terms of support for them."
Ellen Moore, who was at the rally, said she was fearful for the months ahead.
"I'm cold all the time," she said.
"I'm terrified to put the heat on. I'm trying to save whatever I have for when the weather gets colder.
"I should be putting the heat on as I need it but I just can't afford it."
Tags:
A rally in Derry has been told that people urgently need help to deal with the rising cost of living.