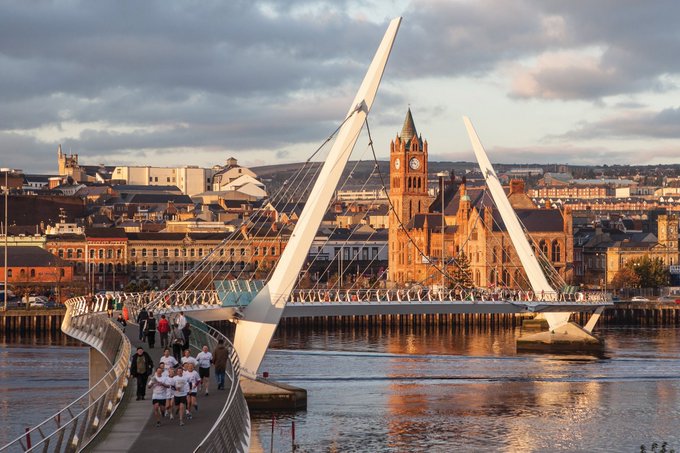 The latest census figures show that for the first time there are more people from a Catholic background in the North of Ireland than Protestant.
The proportion of the resident population which is either Catholic or brought up Catholic is 45.7% compared to 43.48% Protestant.
The previous census, in 2011, found that 45.1% of the population were Catholic or brought up Catholic.
It found 48.4% were from a Protestant or other Christian background.
Census figures detailing the religious make-up here were published on Thursday.
Statistics about national identity and passports held will also be released.
The figures, which are being released in stages, were due to be published on Tuesday but that was delayed due to the Queen's funeral.
The latest census, held in March 2021, was the first to be held since the UK voted in 2016 to leave the European Union.
Since then there has been an increase in applications for Irish passports in the North of Ireland.
Ahead of the publication of the latest statistics, the largest unionist party in the North – the DUP – warned that the results could be misinterpreted.
The party's East Derry MP Gregory Campbell said: "The Northern Ireland census every 10 years brings with it the inevitable 'religious headcount' with writers and some politicians making ill-informed comments about the religious breakdown and what it might mean politically.
"Some make an automatic read across that more Roman Catholics or fewer Protestants means border poll.
"Whatever the census outcome, those of us supporting Northern Ireland remaining within the UK cannot be complacent.
"But those who take the opposite view need to face up to the ironic reality, which is the more diverse Northern Ireland within the UK becomes the less likely we are to want to leave."
In 2011, for the first time, a question was asked about national identity.
Two-fifths (40%) had a British-only national identity, a quarter (25%) had Irish only and just over a fifth (21%) had a Northern Irish-only national identity.
The findings from the latest census will be released by the Northern Ireland Statistics and Research Agency (Nisra).
In May, it was announced that the population had risen to 1.9 million, the highest figure recorded since Northern Ireland was created in 1921.
The total population was 1,903,100 with slightly more females than males.
People were urged to complete the recent census online if they could, rather than on paper. Eight-out-of-10 people took the online option.
A census is carried out every 10 years and participation is compulsory.
As well as total figures, the latest statistics are broken down at council level.
The 2021 census is the first since the re-organisation of local government in the North of Ireland in 2015 when 11 so-called super councils replaced the previous 26 councils.
More figures will be issued in the coming months relating to marital status, sexual orientation, household composition, health and disability.
Tags: