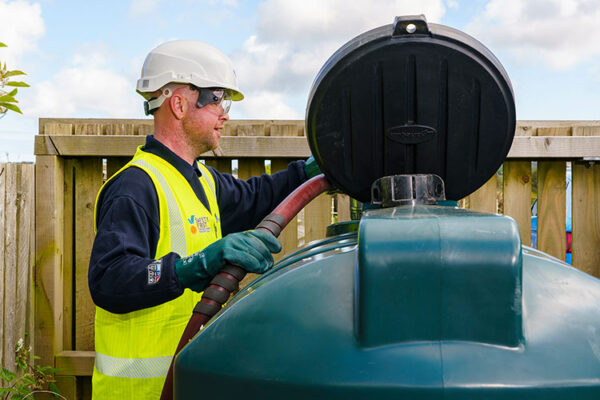 The SDLP has proposed giving every home in Northern Ireland 1,000 litres of oil to deal with the cost-of-living crisis.
Stormont Opposition leader Matthew O'Toole said it was a "radical and robust proposal" aimed at preventing thousands of families falling into fuel poverty this winter.
It comes as the Government is urged to fund its cap on energy prices through a windfall tax, not higher borrowing.
In a joint letter to the new Chancellor of the Exchequer Kwasi Kwarteng, Finance Minister Conor Murphy is joined by his counterparts in Scotland (Kate Forbes) and Wales (Rebecca Evans) in calling for more targeted support to those hit hardest by the crisis.
The ministers also call for additional funding to support vital public services in the face of rising prices, energy costs and wage pressures.
The Government's energy freeze on bills — announced on September 8 — would only apply to gas and electric customers, leaving oil users with no form of support this winter.
However, almost 68% of NI households use heating oil to warm their homes, and it costs more than £1 per litre.
According to the Consumer Council, 900 litres of home heating oil here costs around £930 on average.
One study, by the University of York, estimated that 76.3% of local households will be in fuel poverty by 2023, meaning they spend more than 10% of their income on energy costs.
The SDLP proposal would be similar to the High Street Voucher scheme during the pandemic.
It would involve a new self-enrolment voucher scheme that would allow those relying on home heating oil to purchase 1,000 litres from a supplier in the North of Ireland, overseen by the Utility Regulator.
The consumer would apply for the scheme and the oil provider would be required to undertake appropriate identity checks before delivery.
Based on the most recent average oil prices reported by the Consumer Council, the scheme would cost around £500m.
The SDLP said it would be funded by Barnett consequentials arising from energy market interventions in Britain, as well the £437m unallocated in Stormont funds.
This is a projected cost based on the 68% of households in the North of Ireland making an application for support.
Mr O'Toole said it was a "radical" and "robust" step to prevent thousands of families here falling into fuel poverty.
"A warm home isn't a luxury, it's a matter of basic human dignity," he said.
Tags: