Ronan Coyle will be among a strong Irish contingent set to tee off in the Sport Parkinson's Four Nations Golf tournament at The Belfry in North Warwickshire.
Golfers with Parkinson's from across Ireland, England, Scotland and Wales will take part in the two-day event.
"I'm proud – mum, dad and all my friends are buzzing for me," he said.
It is thought about one in 500 people are affected by Parkinson's disease in the UK.
Most people with Parkinson's start to develop symptoms when they are over 50, with only about 5% of people with the disease first experiencing symptoms when they are under 40.
Currently there is no cure for Parkinson's disease, which leads to parts of the brain becoming progressively damaged over years.
Symptoms can include, but are not limited to, involuntary shaking of parts of the body, slow movement and stiff and inflexible muscles.
Mr Coyle said he first started to experience symptoms of the illness at the age of 24 while at university.
When he turned 30 he was referred to a neurologist in Belfast. After a number of scans it was confirmed that he had the disease.
"I was shocked, and relieved as well, I knew something was up, good to be able to treat it, know what I was facing basically," the now 40-year-old told BBC Radio Foyle.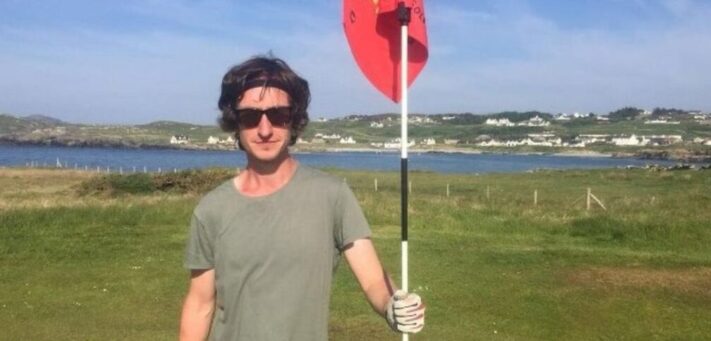 Mr Coyle said keeping fit and active is incredibly important to him, as well as playing golf two-to-three times a week, he also cycles, swims and goes to the gym daily.
Introduced to the game by his golfing dad Terry when he was a child, he is now preparing play on the famous Brabazon course at the Belfry in Sutton Coldfield in England.
"It's a chance to represent Ireland – it's just amazing," he said.
"I never thought I would be able to do that and the Belfry is an iconic golf course. Four Ryder Cups have been held there."
At certain times of the day, such as early mornings and late evenings, Mr Coyle said his symptoms are at their worst and can impact his golf game dramatically.
"At times it can be a bit detrimental to my game. Certain times I'm out I just don't feel right, struggling with my balance to hit the shot.
"There are times I walk in and can't complete the round, but generally it's ok, it's manageable, as long as I play at certain times of the day when I know I'm feeling my best.
"I would be devastated if the day came when I couldn't play golf. I love golf," he said.
Looking ahead to next month's tournament he said the "most important thing is to have a good time, but it would be nice to win as well."
* You can hear Mr Coyle's full interview on BBC Sport NI's Foyle Sportsound on Friday evening.
Tags:
A Derry golfer who was diagnosed with Parkinson's disease at the age of 30 will next month represent Ireland at one of the sport's most iconic venues.