Sponsored Post: Rosie Joe's Derry presents a massive night of Ska, Punk, Funk & Jazz with acts from Derry, Belfast & Letterkenny. And we have five free tickets to give away!
Click HERE to enter the Facebook giveaway for Friday 9th September.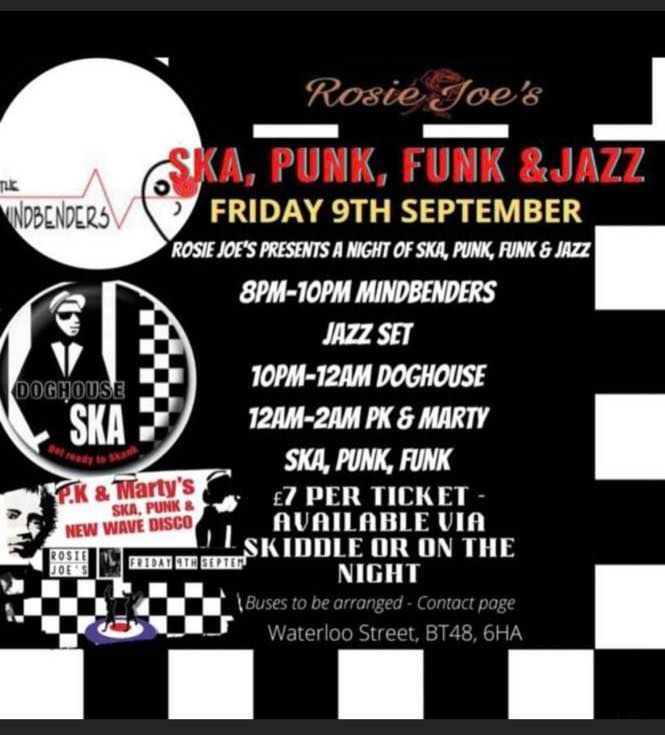 The Mindbenders well known within the northwest will be kicking off the night at 8pm-10pm which is always guaranteed to be an exciting set full of funk & punk!
Paul Curran of the Mindbenders works closely with Rosie Joe's and always has the best interest of the band & venue at heart.
Doghouse – who need absolutely no introduction on the ska scene will be headlining the night with their nine-person band who are always hit among ska and punk fans. Doghouse played at Rosie Joe's during the JAZZ festival at the end of April and were a massive hit & we just had to get them back again. They will be playing 10pm-12am.
PK & Marty Ska & Punk – PK & Marty have run the ever successful annual ska & punk night for a number of years now at christmas time in great venues such as the grill nightclub & Blakes bar Letterkenny. This year they did a summer gig in Blakes and was again a jam-packed night with all the best throwback music. These guys really know what they are doing, and the entertainment factor alone is well worth the watch.
Rosie Joe's is based on Waterloo Street, Derry, BT48 6HA. We pride ourselves in bringing the biggest acts to the city and this is sure to be another big one.
Tickets can be purchased via Skiddle.com – link here : https://www.skiddle.com/whats-on/Derry/Rosie-Joe%27s/Mindbenders-Doghouse-pkmarty/36149984/ priced at £7 plus booking fee.
Buses from towns with big groups can be arranged please Whatsapp: Letterkenny- Paddy: 0866015101
If you would like to be in with a chance to win 5 FREE tickets to this event, check out this post on Derry Daily: www.facebook.com/derrydailynews/
Winner to be announced on Wednesday 7th September!