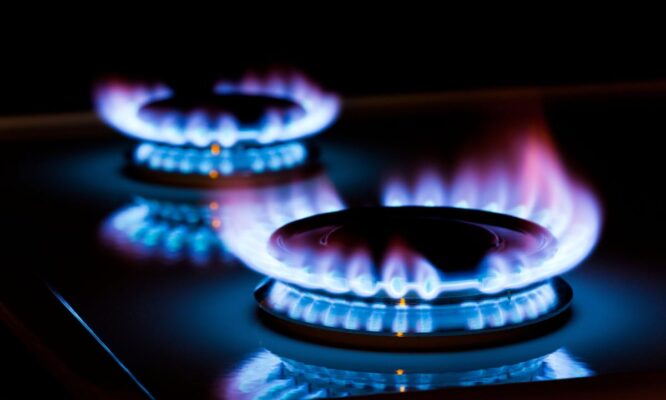 THE North's energy regulator has warned that households will face further gas prices rises in the coming weeks.
The region's two suppliers, SSE and Firmus, last increased their prices at the start of July.
The price of gas on global markets has surged in the last two months.
Russia has reduced its supplies of gas to Europe, increasing competition for gas produced in other countries.
Next week the UK is expected to take delivery of a shipment of gas from Australia.
It comes as on Tuesday inflation hit double digits at 10.1 per cent.
The regulator, John French, warned that households will face further gas price rises of up to 30% in the coming weeks.
"Just as a rule of thumb, we have seen prices more than double, 60% of the final bill is wholesale prices," he told BBC Radio Ulster's Good Morning Ulster.
"We are looking unfortunately at the moment, if we do the calculations today, you are looking at increases in gas at around 30% from 1 October."
Mr French said it is an "awful picture where energy prices have gone" and wholesale prices had "got worse over the last six weeks".
"We are doing everything we can to help consumers in terms of trying to make the market more efficient," he added.
"We are working with the Chancellor to try and get the support out sooner, but the underlying problem is the wholesale market has just risen to levels that have never been experienced historically – if you go back 20, 30 years, you have never seen the price rises we have seen in the last 12 months."
The North of Ireland's energy market is regulated separately from the rest of the UK.
Suppliers can announce price increases as and when they need to, as long as it is approved by the regulator, who scrutinises their costs.
In Great Britain the energy price cap is announced twice a year meaning cost increases are passed on in two huge chunks.
However, GB is now moving closer to the NI model with a plan for the cap to be reviewed every three months.
The Treasury is setting up a joint taskforce to explore how households in Northern Ireland can receive a £400 discount on energy bills this autumn.
Chancellor Nadhim Zahawi met Stormont ministers on Monday to discuss the issue.
Households in Great Britain will start receiving the money from October.
Stormont politicians have called for the same timetable in Northern Ireland, but there are complications due to the lack of a fully functioning executive.
The North of Ireland is also in a different energy market to the rest of the UK.
Following a virtual meeting on Monday, the Treasury said the new taskforce would be made up of officials from the UK government and Stormont ministers.
Mr French said a "workable" plan had been put forward to the Chancellor and Northern Ireland government departments in relation to the discount on energy bills.
He said he had spoken with energy companies last week and "they believed they could get it out in a reasonable time, weeks rather than months".
"It is now down to both the UK government and Northern Ireland government to decide the governance around that mechanism," he said.
"If we keep this simple, we can get the money out quickly.
"It is a very different market here in Northern Ireland, we have got six suppliers compared to the 300 in GB, so some of the governance mechanisms they are trying to do, in my opinion, are gold plated, we need to get this money out quickly, we need to get this money out simply.
"There is a simple mechanism to do that and we are just hoping the Treasury will back that."
Mr French is hopeful that people will receive their payment before Christmas.
"You have to look at all the different companies' IT systems, but all being well it could be this side of Christmas that the monies go out and hopefully a lot sooner than that," he said.
Tags: