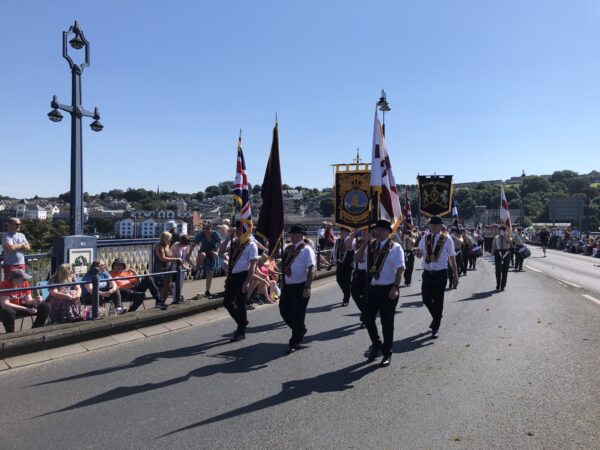 The Apprentice Boys' annual Relief of Derry parade has returned in its full capacity on Saturday.
Last year the parade was limited to a few hundred participants due to the Covid-19 pandemic.
Thousands of people have made their way into Londonderry's city centre for the parade, with over 135 bands taking part in proceedings.
In the day's first parade Apprentice Boys, along with nine bands, made their way along the city's historic walls.
After a wreath-laying ceremony at the War Memorial in the Diamond a church service was held at St Columb's Cathedral.
The main events of the day were a Relief of Derry pageant before the main parade around the city, starting at the Craigavon Bridge.
The events city mark the anniversary of the ending of the Siege of Derry in August 1689.
A cannon on Derry's Walls was fired four times at midnight on Friday to signal the start of this weekend's proceedings.
Graeme Stenhouse, the governor of the Apprentice Boys, said they are expecting high temperatures throughout the day.
"The only sort of worry I have personally is that it may be too warm, so we are asking anyone coming to the city to prepare for the weather," he said.
"I am sure everyone has read the weather forecast, it looks like it's going to be a scorcher, so remember to bring your liquids because the weather could be a problem as the day goes on."
Mr Stenhouse said they have met with various stakeholders and the police to ensure that all of Saturday's events run smoothly.
He asked anyone coming to the city to expect possible delays with the big crowds and to plan their journey accordingly.
"There will be huge crowds in the city so we ask people to be patient and for their understanding," he said.
"This event is very significant for the city and it brings many people and much needed revenue to the city as well."
The parade begins in Duke Street before crossing the Craigavon Bridge and making its way through the city centre before returning to the Waterside.
It is expected to finish upon its return to the city centre at around 5.30 pm.
Drivers are advised to expect some disruption to traffic in Derry during the parade.
Police said there will be a number of restrictions to city centre on-street parking and said a traffic management plan will be in place on the main parade route.
Tags: