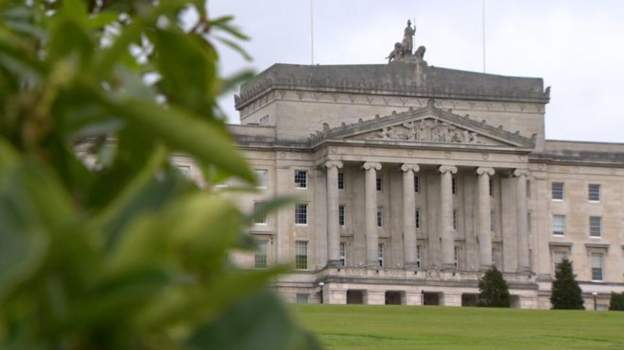 A further attempt will be made later to elect a new Speaker at Stormont and allow the Stormont Assembly to function fully again.
Assembly members are due to meet at noon following a recall petition, spearheaded by the SDLP, which wants a debate on the cost of living crisis.
It is likely to fail as the DUP refuses to nominate a Speaker over issues with the Northern Ireland Protocol.
The DUP leader said recalling the assembly would not solve the problem.
Sir Jeffrey Donaldson said he could not provide a timetable on when the Stormont Executive would be restored.
"The sooner we can get to a solution on the protocol, the sooner we will see the cross-community consensus restored that is necessary to operate the political institutions in Northern Ireland," he said.
Sir Jeffrey said he recognised getting a "fully-functioning executive and assembly was important for everyone in Northern Ireland" but he wanted to ensure the foundations for that were "sound".
Earlier, the DUP said the recall was a "publicity stunt".
The Stormont institutions have been in flux since February when the DUP withdrew from the first minister role in protest over the part of the 2019 Brexit deal known as the protocol.
Since then there has been an assembly election and two recall petitions.
The protocol keeps the North of Ireland in the EU's single market for goods, preventing a hard border with the Republic of Ireland.
But it means checks on some items which come into Northern Ireland from other parts of the UK, creating a trade border in the Irish Sea.
Unionist parties in Northern Ireland are opposed to the protocol, saying it undermines Northern Ireland's position in the UK.
An assembly Speaker can only be elected with support from a majority of unionist and nationalist members.
Without a Speaker in place, there can be no nomination of first and deputy first ministers, meaning the assembly cannot function.
The recall was originally due to take place last Tuesday but was postponed following the death of Lord Trimble.
In a message to party colleagues, Mr Donaldson branded the recall a "publicity stunt".
"The sitting hasn't been called because there is a realistic prospect of electing a Speaker," he said.
"It's been called because some parties prefer grandstanding in the assembly chamber to engaging with unionists and resolving the problems which are holding up the full restoration of the assembly and executive."
His comments come as the National Institute for Economic and Social Research (NIESR) said the NI Protocol had given the region's economy a temporary boost.
Tags: